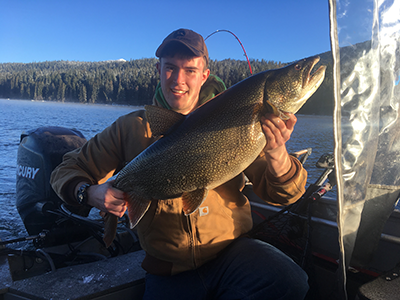 Alumni, Class of 2019
Hometown
Heidenheim an der Brenz, Germany
What drew you to Oregon Tech?
In 2012/2013 I was a foreign exchange student here in Klamath Falls. I really enjoyed my experience throughout the high school year here and decided I want to come back for college after finishing school in Germany. Many people I've met here in town always told me what an excellent school Oregon Tech is and especially the high hire rates right after graduation had me very interested. My goal has been and still is to become a permanent U.S. resident and I am convinced that OIT is the perfect fit to achieve my goal. 
What interests you most about your program? 
My Dad is a mechanical engineer which gave me many insights to his everyday work experiences. I generally loved the idea of becoming an engineer since my mind just works in an "engineers-way". However I noticed the long hours my Dad spent in design in front of a screen and I didn't like it. He also has co-workers who are manufacturing engineers and during a short two week internship I discovered that that's what I want to do. Mainly because it's a lot of hands-on problem solving which is also what Oregon Tech really focuses on teaching.  
What I find most impressive and also important is how many labs Oregon Tech offers. During my school time in Germany, teaching mainly involved textbooks and solving problems on paper. At OIT, most classes teach in lecture and later the knowledge is applied in labs. In my opinion, hands on experiences from labs are far more valuable than reading books because it prepares students for future jobs in a way nothing else could. 
What would be your dream job?
My dream job would be working as a manufacturing engineering in a small to medium sized company. The reason is that the work environment is much more personal, the responsibilities are broader and the everyday work changes constantly. 
What have been some of your favorite classes and why?
My favorite classes at OIT so far were the CAD/Solid modeling classes and Numerical Controls, which is the introduction to CNC. I really enjoyed the fact that these classes provided a great picture of everyday tasks for a manufacturing engineer. Like I said earlier, I just really like hands-on experiences!
Is there anything about Oregon Tech that you wish everyone knew about?
One thing Oregon Tech has taught me is that job-wise pretty much anything is possible. The most important thing is to get out there and start talking to companies. I was amazed how easy it really is to establish good connections this way, compared to what one might think before trying.
 
Are you involved on campus? If so, how? 
My first involvement was starting to work at the college union info-desk. What I really enjoy about it is how close I get to work with fellow students, staff and visitors. The job itself has taught me a lot about leadership, management, service orientation and campus itself. Over the last year I've also joined the Baja racing team and I'm helping the cheerleading team whenever I can. 
Have you participated in any internships or externships during your time at Oregon Tech? Did you gain valuable experience from them?
After my freshman year I got my first manufacturing engineering internship. Those 3 summer months in a small potato packing shed in Malin, OR really made me look forward to graduating and getting a job. Even though I didn't have too many engineering classes throughout my freshman year, I learned many things that helped me with classes later on. After my sophomore year I was an intern for 3 months at a construction company which once again let me apply lots of coursework to real world experiences and I gained many skills.
Is there anything more that you would like to share with future students about attending Oregon Tech?
If you like outdoor activities such as hunting, fishing, hiking, off-roading or winter sports as much as I do, Oregon Tech is in the perfect location. It's also important to mention that Oregon Techs classes aren't easy, but the professors make sure students understand the material covered since that's what's most important to have a successful career straight after graduation. I would also like to mention that OIT doesn't only teach you in your particular field of study, but also offers many very valuable opportunities to learn how to be more successful in job search etc.