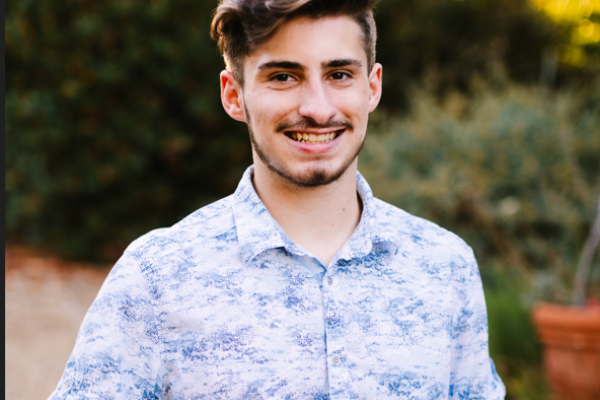 Student, Class of 2025
Hometown
Glendora, California
Makerspace Club Officer, Lower-Division Math Tutor (ML²)
Housing Service Desk, Materials Lab TA
Extracurricular Activities
-=Hobbies=- -Restore broken technology (iPhones, iPads, computers, TVs, etc) back to working condition. -Tinker with technology. -3D Printing -Build computers -Volleyball -Work on cars -Design a LEGO car from scratch -Manage the Cornett Hall Makerspace at Oregon Tech
-=Cool engineering projects I'm working on or have done=- -Engineer my own electric skateboard. -Build a Tesla Roadster 2020 from LEGO and engineer an electric motor to make it go as fast as possible. -Salvage an old iMac frame and turn it into a fish tank diorama. -Work with the Oregon Tech AUVSIR team to create a robotic submarine. -Wire my own custom LED lighting on a shelf and other furniture in my room. -3D Print a case for my iPad. -Replace my car's stereo and install a wireless charging module in my center console.
A Little Bit About Me
I have two jobs on campus, one being a service desk worker in the residence hall and the other being a math tutor for lower-level math classes. I always try to be happy, kind, and get a laugh out of others. I go out of my way to help others. This is why I enjoy my job as a math tutor and service desk helper on campus. I am also environmentally conscious. I try to do my part in mitigating my impact on the environment by repairing broken technology and more. I am very hard working and have immense perseverance. If I am experiencing a problem or working on a project I will spend as much time as possible to fix the problem or perfect the project I'm working on. I am very detailed in my work. I focus on every detail even those that may not be relevant for the purpose of the final product. Every detail matters. Now I don't let these traits get in the way of my work though. If it hinders my ability to complete a project on time then I won't do it, but I will see if I can squeeze it in there. I have an open mind and make sure that everyone's ideas are included in the conversation. I know what it feels like to be ignored and left out and I don't want others to feel the same way I did. My goal in life is to be kind and understanding of others and their situations and I hope that others will do the same.
Why I Chose Oregon Tech and My Major
I chose Oregon Tech because of the opportunities it brings to its students. With opportunities like MECOP for internships and several engineering teams and clubs, I can find exactly what I like to do and learn and build my career with it. The hands-on aspect is a big deal too. I am a hands-on learner and this being a priority in teaching makes understanding complex concepts much easier for me to grasp. Seeing how something works in person is a totally different experience than being told how it works. I also like the size of Oregon Tech. It's not too big and not too small. I am majoring in mechanical engineering because from a young age, I have always loved to build and create. I got my first LEGO set from my uncle in 2nd grade and that's what sparked my passion for engineering. At age 10, I would build LEGO sets rated for children 18 and up. At 21 years old now, I still build a LEGO set every once in a while but now I have advanced a lot further and have built computers, repaired broken technology, make custom projects with 3D printing, and so much more. It was an obvious decision to my mother and others around me that I would major in mechanical engineering.
My Influential Professors
Professor Irina Demeshko is the best instructor I believe I have ever had aside from my mother. She honestly reminds me of a truly dedicated mother in fact. It is immediately obvious to anyone that she truly cares about her passion for engineering and teaching. She is extremely detailed with her work and knows that not everyone is going to understand such complex knowledge right away and provides students with countless examples and reminders to really nail concepts into our heads. She is not my academic advisor, but I happened to ask her a question about another class which then spiraled into her advising me about other classes and what to do. Which I am grateful for, but that conversation really showed me how dedicated she is and how much she truly cares about her students. I have never had an instructor so caring and thoughtful in my entire life and I am thankful to have had her as my professor for such complex engineering classes.
My Greatest Learning Experience At Oregon Tech
One of my truly biggest learning experiences at Oregon Tech is that we all start small and where we go from there is all up to us. Before learning this, I was worried about not being good enough and not being able to accomplish my goals. I couldn't see how I would ever be able to be successful with others my age or even younger accomplishing amazing things around me. I have realized that we all have to start somewhere. Whether it be yesterday, now, or tomorrow. Other people's success can come sooner than yours and it's easy to compare yourself to them and feel bad about yourself. But I found that the truth is I'm not them. I am who I make myself out to be. Oregon Tech has taught me that I have control to create the life I want to live. I just need to put in the time and hard work to get where I want to be. It's taught me to use other people's success as inspiration for my own.
My Plans After Graduation
My future ambition ever since I was in elementary school was to work for the tech company Apple Inc. and this still holds true today. My plans for the future after graduation are to work toward meeting this goal. To be hired at Apple, one needs plenty of experience and background in their field, so after college, I will be spending as much time as I can to gain the necessary skills that are expected from the company. Another thing I would like to do with my degree is to develop a way to mitigate e-waste by recycling old electronics down to their individual elements. It is a vastly growing problem that is only getting worse. I have a strong passion for doing amazing things that impact the lives of many people. I can't wait to leave my mark on the world.