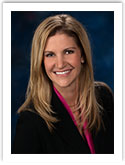 Kelley Minty, Klamath County Commissioner
Klamath Falls, OR
Send Email
Serves through June 30, 2022 (Service Period Extended)
Academic Quality and Student Success Committee Member and
Executive Committee member
Kelley Minty serves as the chair of the Klamath County Board of Commissioners. Elected in 2014, Commissioner Morris is committed to improving economic opportunities in Klamath County, making county government more effective, and fostering a greater connection between Oregon Tech and the Klamath Basin.
Commissioner Morris was selected by her fellow Trustees to Chair the search committee for a new University President in 2016, successfully hiring Dr. Naganathan. She was also elected to the Board of the Association of O&C Counties, and the Chair of the South Central Oregon Economic Development District. She was appointed by the Secretary of the Interior to serve on the Southwest Oregon Resource Advisory Council for the Bureau of Land Management.
Commissioner Morris is passionate about health and serves as the Co-Chair of the Steering Committee for the Blue Zones Project.