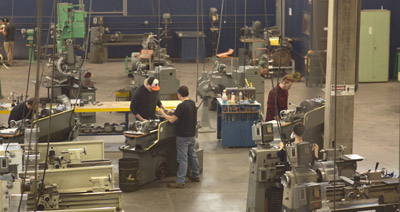 The diverse and hands-on field of Manufacturing Engineering Technology is where leaders and innovators gain a career path.
Summer Term Begins
06/22/20
As leaders in technology and managers of innovation, manufacturing engineering technologists are experts in how things work and how they're made.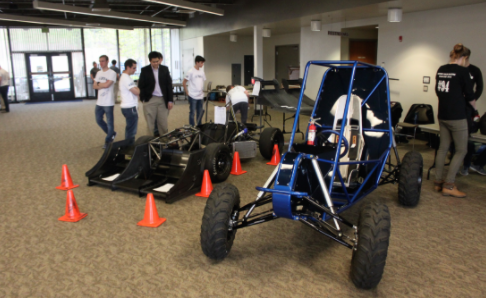 Manufacturing engineering technology is responsible for the production of a variety of consumer and industrial goods from Boeing new 777x planes to designer jeans to dialysis machines. Through the use of computer aided equipment and other planning tools to assess manufacturing processes, a manufacturing engineering technologist is on the lookout for ways to reduce cost, increase productivity, innovate equipment, and improve quality for a variety of consumer and industrial goods.
The Bachelor of Science in Manufacturing Engineering Technology (BSMFG) at Oregon Tech offers a state-of-the-art and career-focused education, preparing students for an exciting and successful future. Whether it's working with robots and industrial scale computers or in cutting-edge labs, we bring engineering theory alive through hands-on application. In our exciting program, students learn the theory and application of computer-based engineering design and manufacturing tools, modern manufacturing processes, multidisciplinary teamwork, and basic and advanced hardware and technology.
The state-wide Multiple Engineering Cooperative Program (MECOP) connects students with industry externships, providing sought-after skills and jumpstarting a career before graduation. We welcome full-time students, transfer students, part-time students, and working professionals at our Klamath Falls and Portland-Metro campuses.
Degrees Offered
Bachelor of Science in Manufacturing Engineering Technology
Locations
Klamath Falls

Portland-Metro
* Only available to Boeing employees. See Oregon Tech Seattle website for more info.
A Manufacturing Engineering Technology degree from Oregon Tech means a bright and successful future!
With a strong technical foundation in conventional and advanced manufacturing technologies, extensive training as team-players and project managers, our graduates are ready for technical and managerial careers in manufacturing areas like production, quality assurance, lean manufacturing, research and development, technical sales, and supervision.
Our graduates work for:
Boeing
Erikson Air Crane
FLIR Systems
ATS Automation
Audix Corporation
Warn Industries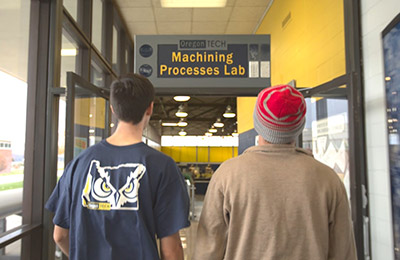 Graduate Success
Among all Oregon Tech degrees 2017-2019
| | |
| --- | --- |
| Employed: | 90% |
| Continuing Education: | 6% |
| Success Rate: | 96% |
| Starting Median Salary: | $60,000 |
|   | Learn more |
Students enrolled in the BSMFG degree are taught by faculty with extensive industry and classroom experience who are committed to the real-world application of coursework. Small, hands-on classes that utilize the most recent developments in technology, make Oregon Tech classroom's exciting and engaging.
Fundamentals in Engineering Technology
Learn fundamental foundations in physics, chemistry, material science, calculus, and machine/welding.
CAD/CAM/CAE
Gain skills and expertise in drafting, computer aided design, solid modeling, parametric modeling, and finite element analysis.
Controls
Understand the fundamentals and application of dynamic systems and control, including electric circuits, electric power systems, robotics, and numerical control programming.
Solid Mechanics
Study principles of mechanical elements and structures of basic mechanical systems.