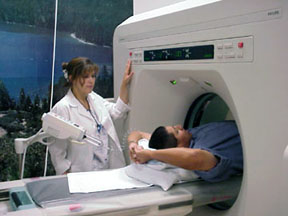 The MRI Certificate offered at Oregon Tech Online allows non-degree students and radiology students to gain a valuable understanding of magnetic resonance imaging.
About the MRI Certificate Program
When it comes to presenting the physics of MRI, the fundamentals can be edited for brevity, but a student must understand the concepts in enough depth that the formation of the MR signal and the manipulations that control image contrast make sense! The only comparable subject in the Radiologic Science curriculum is the physics of radiology. Like voltage, amperage, capacitance, induction and the like, the physics of MR deals with quantities unseen, that most people are totally unaware of. As Arthur C. Clark famously said, "Any significantly advanced technology Appears to be magic."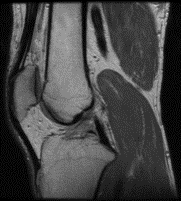 The certificate in MRI was designed to demystify and reveal the Magician's tricks. The magician practices untold hours to make that card appear, and there are no short cuts to understanding MRI. Reading, thinking, asking questions, and repeating as needed is the key. It's the old fashioned way, but it's tried and true.
One other ingredient is required for success, enthusiasm. Pursuing an endeavor such as this is a good indicator of yours' to start with. If you're up for the challenge, and looking for a means to provide the opportunity, this may be the program for you. If you're looking for faculty who know their business, and are not only willing but eager to help you through the rough spots, that's our commitment. If you want a quality education from a top ranked school, welcome to Oregon Tech!
Common Questions about the MRI Certificate
Requirements of the Certificate
To see which quarter(s) each class will be offered during the current academic year, please review our Annual Planning Schedule.
| | | |
| --- | --- | --- |
| Course | Description | Credits |
| BIO 335 | Cross Sectional Anatomy | 3 |
| BIO 375 | Cross Sectional Anatomy II | 1-3 |
| MIT 341 | Magnetic Resonance Imaging | 4 |
| MIT 342 | Magnetic Resonance Imaging II | 3 |
| MIT 365 | Magnetic Resonance Imaging Review | 2 |
| MIT 411 | Magnetic Resonance Externship | 5 |
**Students must earn a "C" or better in all courses to be awarded the certificate .
**Online students must have access for clinical practice at their place of employment, and permission from management.
Obtaining consent to cross train in a modality can be frustrated by concerns with liability, HIPAA, scheduling, others in training, and fairness to other employees. Student status does not guarantee access to clinical practice at a student's place of employment, but it conveys the sincere interest, motivation and desire of the prospective trainee. There are still are logistics. Prospective students need to discuss their opportunities with management before registering for courses.
How to Apply
Full admission to Oregon Tech is not required to complete the MRI certificate. Financial aid is not offered for this program but a payment plan is available. Follow the steps below to get started on the certificate :
Complete an Eligibility Verification.
Submit the Non-Degree Seeking Application.

Select MRI certificate as your program of study.

Watch for an email from the Admissions office about registration.