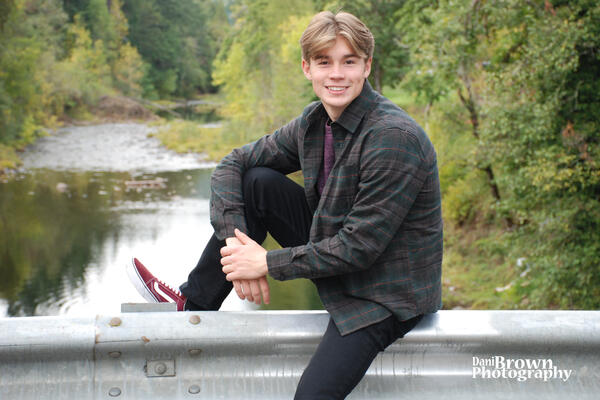 Student, Class of 2026
Extracurricular Activities
Track, Cross Country (team captain), Key Club, Jobs at Carl's Junior and Walmart
A Little Bit About Me
I have grown up in the small community of Dorena, Oregon. I live with my parents and brother. High school has been a time of growth and learning about my interests for the future. I have enjoyed math, science, and shop classes. I enjoy the outdoors, swimming in the river, and cycling.
Why I Chose Oregon Tech and My Major
I chose Oregon Tech because the school is a great value for the money and all of the degree programs will lead to great careers. The small class size, recently remodeled engineering labs, and smaller community of Klamath Falls all factored into my decision.
My Plans After Graduation
I want to continue my education so that I can become a Renewable Energy Engineer. Not only do I like to learn, but I enjoy the challenge and intrigue that classes provide for me. As an REE, there are many possible career paths that offer amazing opportunities. I can work in any engineering sector, whether mechanical, chemical, industrial, or electrical. Each of these sectors makes use of renewable energy, either in the way they operate or that they wish to make advancements in that field. I hope to work with the mechanical and electrical portions. I would like to specialize in designing and installing renewable energy power systems in homes. For the most part, that will entail using solar panels and battery backup systems to help create self-sufficient homes. Additionally, there will be wiring, metering, and grid-tied systems that will need to be put in place. Ideally, I would work for a company doing this and get a feel for the market. After about 5 years of learning and experience, I would like to start my own business. My father sought to have work like this done to our home only to find exorbitant prices and an unwillingness to serve rural customers. My business will solve both these problems. A battery stack from the company we looked at was marked up 300%, from where we found the very same one online. I understand that money makes the world go round, but I will do things differently. Attending Oregon Tech to receive this degree is my best option for a career in renewable energy. By attending the premier engineering school in Oregon, I set myself up for success.