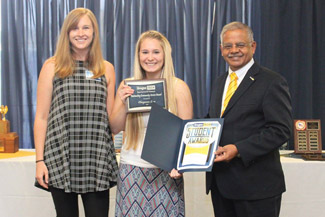 Student, Class of 2018
Awards and Accomplishments while at Oregon Tech

ASOIT Administrative Officer
Creating the Circle K Club
Community Service Student Volunteer Award 2017
Radiologic Science Bontrager Award for 4 perfect practicals
Radiologic Science Jim Garhardt Award
Circle K - Most Prestigious President
Circle K - Carthrage Pullman Award
University President's Transition Team student member

Why did you choose Oregon Tech?
 I chose Oregon Tech because they were the most prestigious school for my program. They also offered small class sizes so I would receive more 1-on-1 time with my professors. 
 What do you like most about your major?
I love that it is so hands on. I actually get to do and see what I am learning about. We get to take x-rays, position each other, transport each other, perform needle sticks etc.
 What are you passionate about changing within this particular field and why?
I enjoy helping others and that is why I went into the medical field. I love interacting with patients and expressing compassion with each person I meet in the hopes that I brighten their day just a little.
 What would be your dream job?
Working as the lead technologist at larger hospital that receives a lot of trauma cases. I am also interested in Forensic Radiology for down the road. 
 What have been some of your favorite classes and why?
I really enjoy my patient care class because we got to perform needle sticks, transport one another, and make our own plaster casts. It was very hands-on. I use a lot of what I learned in that class almost every day. I also really enjoyed my Positioning courses because they are the most pertinent to my job. But I can honestly say I use the information I learned in my courses every single day while I am on the job.
Is there anything about Oregon Tech that you wish everyone knew about?
Oh gosh... there are so many things. Oregon Tech is just amazing all around. It provides so many opportunities for its students. The best advice is to get involved with the campus early on. Whether that's getting an on campus job, being in clubs, going to all the FREE activities that are put on, just do it. You will be 100X more successful.
 What's your favorite thing to do off campus?
I love hiking, chasing waterfalls, going to the coast, volunteering, cooking, and painting.
 Are you involved on campus? If so, how?
I had my hands in a lot of different areas on campus. I had 3 on campus jobs at one point. I worked in athletics, student government, and was the Hootie Mascot. I also worked at the Women's Resource Center for 1 year. I was the Administrative Affairs Officer for student government for a year. I sat on various committees for our college. I was the founder of the Circle K Club on campus and was an officer for 3 years. I helped with New Student Orientation for 2 years. I volunteered countless hours for various events as well. I hosted many different events on campus like an Operation Christmas Child Packing party during family weekend, scholarship nights with Financial Aid, 10+ craft nights, knitting parties, and many fundraisers.
Have you participated in any internships or externships during your time at Oregon Tech? Did you gain valuable experience from them?
I am currently doing a 1 year externship at Providence Medical Center in Medford, OR. Oregon Tech works really hard to provide their students with externships. Every single medical imaging student is guaranteed 1 externship.
Do you have employment/graduate school plans for after graduation?
I am hoping to apply for positions in Medford, Grants Pass, Klamath Falls, and Bend and start working full time. I am also hoping to go back to school to get my teaching degree and come back to Oregon Tech to teach Radiology.
Is there anything more that you would like to share with future students about campus, what you wish you knew before attending Oregon Tech or anything else?
You have made the best decision of your life about coming to OIT. You are going to love it here. Make sure to get involved but still stay focused on your studies. That is most important. School will always come first. It might take some time to figure out new study habits because it will be different from high school. Get help early on if you are struggling. The peer consulting center is AMAZING! Make sure you attend New Student Orientation!!! That is where you start making connections with people and will officially become at OIT Owl!!