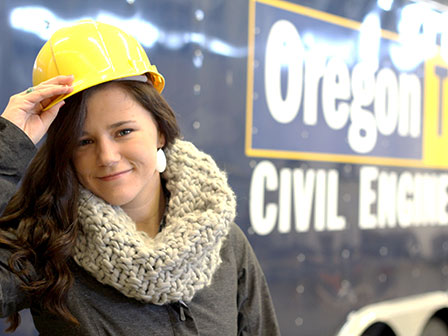 Alumni, Class of 2016
Why did you choose Oregon Tech?
I learn a lot better in smaller classrooms, so that was a really important factor for me. Then when I visited and toured the campus everyone I met was really welcoming, I didn't just feel like a number and everything clicked and it felt right.

What do you like most about your major?
I love the faculty. I know I could go to any of my professors and get their advice about anything, even unrelated to school.
What would be your dream job in your major?
I have my dream job. I was lucky enough to get three internships before I graduate and test out several areas of civil engineering and find what I'm passionate about. I interned with Kiewit Infrastructure Engineers in Denver last summer and loved it so much I'm going back! I get to work on multibillion dollar design-build projects, where I optimize design of roadways to help the company win jobs, and I wouldn't want to do anything different!
What activities are you involved in on campus?
I am an ambassador in the Admissions Office, I'm president of the Institute of Transportation Engineers (ITE), I'm involved with the American Society of Civil Engineers (ASCE) and Concrete Canoe (past concrete canoe captain), I'm a Women in Transportation Seminar (WTS) scholarship recipient- as such, I get to travel to Austin, Texas for the WTS Annual Conference in May, I was a New Student Orientation group leader and I'm also project manager for my senior project group, working on the "Downtown for People" Blue Zones project in Klamath Falls.
What's your favorite thing to do off campus?
I love snowboarding! The Outdoor Program has great trips for really reduced prices and I try to go on as many as possible!
What's your most memorable moment within your school career?
There are so many! Probably the most memorable moment was when I got to travel to Washington DC for the Transportation Research Board Annual Meeting. While we were there we got to tour the Capitol and meet our Oregon Representative, Greg Walden. He was really great to talk with and was genuinely interested in our projects and our futures.