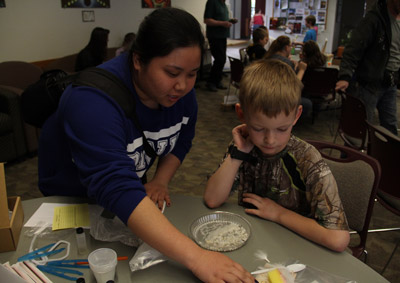 Student, Class of 2018
Why did you choose Oregon Tech?
I chose Oregon Tech because it was an out of state college for me, and I wanted to build professional relationships in the area in order to pursue a career in the Pacific Northwest/ west coast. I also saw that OIT's class sizes were ideal to me, the MECOP program sounded good, and good graduation stats.
What do you like most about your major?
I love how diverse the field is. Mechanical engineering holds so many different opportunities in itself.
What are you passionate about changing within this particular field and why?
I'm passionate about changing how many women are actually involved in not only engineering, but STEM fields in general because our society can only improve by including as many different voices and minds in STEM. There need to be more women in STEM than there are now and in order to get there, we need to start supporting the mindset that these fields are possible for anyone and everyone, and representation in the fields is so important as well.
What would be your dream job?
My dream job would be with a mid-size company where I have a lot of flexibility in my day to day work. My dream job would also be for a company that values diversity, their employees in general, and the environment as much as they do making money.
What have been some of your favorite classes and why?
Within my major, my favorite classes have been the solid modeling courses. I love how this skill helps me take an idea from my head, puts it onto a screen where I can see how feasible it is and adjust it in any way I need to, and ultimately have it become a real life 3-dimensional thing.
Another favorite class of mine is WRI420 – Document Design. I took this course for my minor in Technical Communications and it was so great. The class material falls closely to graphic design which is something I've been interested in for a very long time.
Is there anything about Oregon Tech that you wish everyone knew about?
I wish everyone knew how great and hands on the programs are here. There are some people I know that once they hear "institute" instead of "college/university" they write the school off.
What's your favorite thing to do off campus?
My favorite thing to do off campus is graphic design work for my friends and family. Year round I'll be working on a party invitation, graduation poster, or flyer for them.
Are you involved on campus? If so, how?
I'm involved with two clubs on campus: Society of Women Engineers (SWE) and the Engineering Honor Society (EHS). In SWE, we hold the Engineer for a Day event where we invite students from the area to work on engineering kits our club develops in order to get them interested in STEM. This event is hosted during Engineer's Week which is hosted by EHS.
Have you participated in any internships or externships during your time at Oregon Tech? Did you gain valuable experience from them?
I have participated in two internships through the MECOP program. My first internship was at Consolidated Metco (ConMet) where they develop heavy duty trucking transportation component, and there I worked more on the manufacturing side of my major. It was really about learning how working in the "real world" is really like and the importance of having any sort of process that is repeatable and reliable in order to have repeatable results. My second internship was with Medline ReNewal where medical devices are reprocessed in order to promote sustainability. During this internship I was able to do a lot of design work and work on more high priority projects which taught me how to set reasonable deadlines.