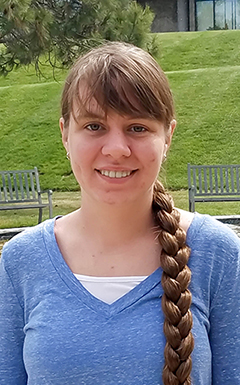 Student, Class of 2022
Awards/Accomplishments while at Oregon Tech:
Why did you choose Oregon Tech?
I chose Oregon Tech because I wanted a technical approach to my education. As a math major, I wanted to learn the uses of my favorite subject in classes with a direct application to my future career as an analyst. As opposed to other universities, Oregon Tech promised this type of education centered on Applied Math. So far, Oregon Tech has kept this promise and I've enjoyed learning the skills I will need in the future.
What do you like most about your program?
Many people don't like math because it doesn't seem applicable. But, since Oregon Tech offers the Applied Math program, students can learn how math is applied everywhere. The math professors center their lessons on applications and are happy to entertain ideas of where and how math can be applied. The biggest complaint you hear about math is "When are we even going to use this?" But in my program, that question is answered daily, and that is my favorite aspect of the program.
What are you passionate about changing within this particular field and why?
Math has such a bad connotation among people. While it can definitely be frustrating at times, it also answers the world's most asked questions. If I could change anything in the math field, it would be how people view math. I hope to show others that math can be an eloquent solution, rather than a last resort, to everyday questions, as well as questions that have yet to be answered.
What would be your dream job?
My dream job would be to help my employer with their math- related questions. Whether that is by calculating the efficiencies of products, analyzing data to answer research questions, or numerous other questions that the world needs answers for. I want to use the skills that I'm learning now to help others (e.g. employers, peers, or students) understand how math is used to answer their questions.
What have been some of your favorite classes and why?
So far, my favorite classes have been the Calculus series and some geomatics courses, particularly Computations and Platting. These have been my favorite courses because of how applicable math is in them. The reasoning behind the Calculus series is obvious, but I've really enjoyed how math is applied in land surveying. Surveyors use geometry, algebra, and calculus to do their jobs. I enjoy the practical use of these math courses that tend to be overlooked or hated because they seem "pointless."
Is there anything about Oregon Tech that you wish everyone knew about?
Everyone should know about how many resources are offered at Oregon Tech to help students succeed. For example, there's the Tutoring center, Career Services, and the Tech Opportunities Program (TOP) for first-generation and/or low-income students. There are also many resources in the library, such as laptops available for checkout, research services, whiteboard tables, etc. Coming to Oregon Tech, I was surprised how many resources were available, but am grateful for them, as these resources have helped me with quite a few classes.
Are you involved on campus?
Yes, I'm currently a Peer Consultant in the Tutoring Center. My job is to help students with their understanding of their coursework. Students can make appointments or walk-in for help on homework and studying for their classes. The Tutoring Center has helped me with difficult classes, and in return, I enjoy helping others in the same situation.  
Do you have employment/graduate school plans for after graduation?
At this point, my plan after graduation is to find employment as a Research Analyst. This career only requires a bachelor's degree, but I may decide to attend graduate school, for more knowledge and experience in a specified field. I hope to remain on the West Coast, but am open to many career options as an analyst.
Is there anything more that you would like to share with future students about campus, what you wish you knew before attending Oregon Tech or anything else?
For future students, who are undecided of their major: Look through the required classes for the majors that sound the most interesting. I was able to find a major that was best for me by looking at the courses offered in the majors I was interested in and narrow down my choice by seeing the number of classes I would enjoy for each major. If you're looking through the required classes of a major and a majority of classes sound boring and/or dreadful, that may not be the best major for you. Choose a major that sparks your curiosity, and even if you have to take one or two "bad" classes, it will be easier to get through them because you will be excited for the rest of the classes. College is a chance for you to expand your knowledge in a topic that inspires you. Don't waste the experience torturing yourself with uninteresting classes. Also, if you enjoy learning the skills needed for a career, isn't it reasonable to assume you'll enjoy that career? If you hate the classes that give you the skills for a career, why would you like that career?
President's list for two terms
Awarded the Coleman Family Scholarship and Presidential Scholarship
TOP Honors Student