Image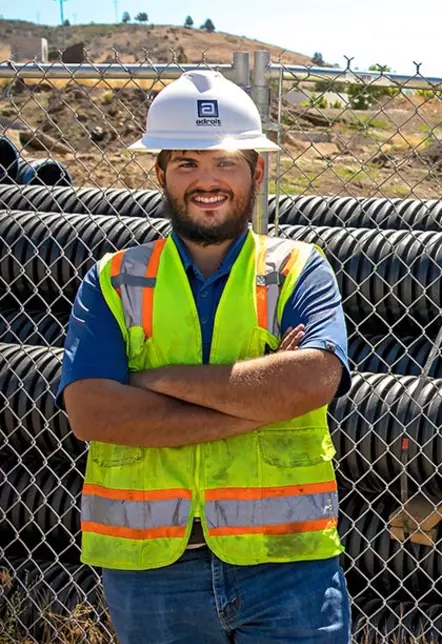 Alumni, Class of 2022
Awards and Accomplistments while at Oregon Tech:
ASCE Concrete Canoe Co-Captain 2020/2021, Tau Beta Pi member (Engineering Honor Society)
Why did you choose Oregon Tech?
I grew up about 20 miles east of Klamath Falls and I am close with my family so when the time came to look for good colleges, I knew that I wanted to stay in Oregon. Then after I started researching schools, I realized how good of an engineering school Oregon Tech is. I had been on countless tours of Oregon Tech in the past just with my high school and I concluded that Oregon Tech was where I wanted to invest in my education.
What do you like most about your program?
My favorite part of the Civil Engineering program is the professors. I think they are all great people who have worked in the field before becoming professors, which has only enhanced their teaching ability. They care about their students which is evident in their delivery of the material and they are always open to help if their students are struggling. I know that I can stop by the office of any professor in the Civil Engineering department, to ask for help, ask any random question on my mind, or just to say hi and they will enjoy my company.
What are you passionate about changing within this particular field and why?
What I am passionate about within the civil engineering field is making the world a better place. If I decide that I want to design infrastructure I want to make sure that anything I design is economical and safe so the public can use that piece of infrastructure for a long time and not have to pay more for it. I have always wanted to help people throughout my life and to me, this is how I have thought that my skills and knowledge would be best suited to do that.
What would be your dream job?
With two years left in my education, I still have a hard time picking one job that I think I will love for the rest of my life. One aspect that I think would help make a job perfect would be the ability to go to the field semi-often. I know that as a civil engineer the main job is designing infrastructure, however, I grew up on a farm and outside all the time, to give up the outdoors would just eat at me for my entire professional career.
What have been some of your favorite classes and why?
I have a hard time narrowing my favorite class to just one, but my favorite type of class is the structural classes. When it comes down to the math that goes into perfectly designing one aspect of a structure, I learn it very easily. The concepts make sense and I can easily help other students in my class.
Is there anything about Oregon Tech that you wish everyone knew about?
One of the biggest things that I have noticed on campus is that there is a wide variety of clubs and many of them are struggling to find active members. I understand that with college it can be hard to take what little time there is outside of school and homework to join a club, but the experience can be so rewarding. Getting the opportunity to bond with classmates and depending on the club you can get close with people outside of your degree. I would love to hear stories from fellow students about the adventures they have with other club members when we return to life on campus.
Are you involved on campus? If so, how?
I have tried to be a part of many of the engineering clubs on campus but the main club that took me in my first year at Oregon Tech was the American Society of Civil Engineers (ASCE). I loved the concrete canoe competition and shadowed the 2019 captain throughout the year learning everything about the concrete canoe. I then became a concrete canoe co-captain for the 2020 season and am currently a co-captain for the 2021 season. I also help with many community service activities that ASCE does like hosting a golf tournament and helping Pacific Terrace on Halloween to keep trick-or-treaters safe.
Have you participated in any internships or externships during your time at Oregon Tech? Did you gain valuable experience from them?
Currently, I am working for Adroit Construction as a project engineer intern. During my time there I have worked many different projects so I could see the variety of projects that Adroit works on. The most interesting project I have been able to work on is Oregon Tech's new CEET building. By working for a construction company, I get to see how structures that civil engineers design are built. This gives me insight into designing structures that are easier to build from the beginning rather than having the workers struggle with something and have to come back and ask the engineer how to go about building the structure designed.
Do you have employment/graduate school plans for after graduation?
When I graduate from Oregon Tech in 2022, I will have my master's in civil engineering so I will be able to go straight to the workforce. As for employment, I am not sure exactly where I want to work yet. The internship that I currently have is not completely focused on civil engineering, so I want to try an internship with an actual civil engineering firm before setting anything in stone.
Is there anything more that you would like to share with future students about campus, what you wish you knew before attending Oregon Tech or anything else?
One of the most important things that I have learned about going to school is that it is extremely important to budget your time effectively. I have been considered a workaholic in an interview for a potential internship before, but even though I make myself busy constantly I still budget time for school, homework, community service organizations, clubs, my friends, and myself. It is important to not drown oneself and know when to say no if you are asked to do something. I know I have friends that call me reliable not because I attend every little thing, but when I say I am going to do something I have budgeted the appropriate time to get it done.