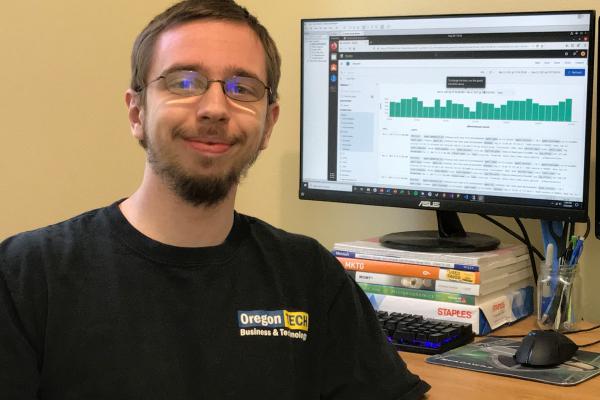 Alumni, Class of 2021
Hometown
Warrenton, Oregon
Outstanding Scholar Award – IT Program
Graduating Summa Cum Laude
1.       Why did you choose Oregon Tech?
                I chose to attend Oregon Tech because it was one of the few colleges in Oregon with an IT program and I liked everything I heard about it being more hands-on and having smaller class sizes. It's been enjoyable to have lab-focused classes and small class sizes that make it easier to have meaningful interactions with the professor and other students.
2.       Why was the Cybersecurity program the right fit for you?
                I originally started in the IT program as the Cybersecurity program wasn't offered yet. I knew I liked working with computers and technology, but I didn't know what area/specialization within IT I wanted to focus on. During my sophomore year, Professor Tracey Coon told us about the Cybersecurity program that he was working to get approved for the following year, and it sounded like a really interesting field to go into. I officially started concurrently majoring in IT and Cybersecurity my junior year, and I have greatly enjoyed the focus on learning to keep information systems secure.
3.       What are you passionate about changing within this particular field and why?
                While businesses continue to rely on technology more and more, many still don't consider the importance of keeping that technology, and the information it can store, secure. You fairly often hear about businesses or government agencies getting hit by ransomware or suffering a data breach and, while it's not always preventable, there's usually some lack of security procedure or standard that could've prevented the attack. I hope to be able to work for a company that either already makes information security a priority or is willing to let me help make it one.
4.       What would be your dream job?
                I'm ideally looking for jobs as a Security Operations Analyst. I enjoy the defensive, analytic side of Cybersecurity, where we focus on monitoring and keeping networks and computer systems secure. Farther in the future - once I've gained more experience - I could see myself enjoying a transition into more of the business side of things and eventually getting a Director of Technology or CTO position.
5.       What have been some of your favorite classes and why?
                The Cybersecurity courses are generally my favorite ones as they directly highlight important subjects to know once I'm working in the field. Courses on various hacker tools and techniques to be aware of, security operations and analysis, and managing risk in information systems have all been immensely enjoyable to learn about and have been taught by great professors. A favorite non-focused elective that I took was Globalization, as I really enjoyed the way that it was taught, the group discussions that I was able to have with various students, and the different perspectives I was able to learn about.
6.       Is there anything more that you would like to share about this program or career path?
                I believe that Professors Tracey Coon and Dan Carrere have put together a great Cybersecurity program that will continue to grow and help develop future Cybersecurity experts for the industry. I'm glad that it started up as a program while I was attending OIT and I look forward to a great career in the Cybersecurity field.