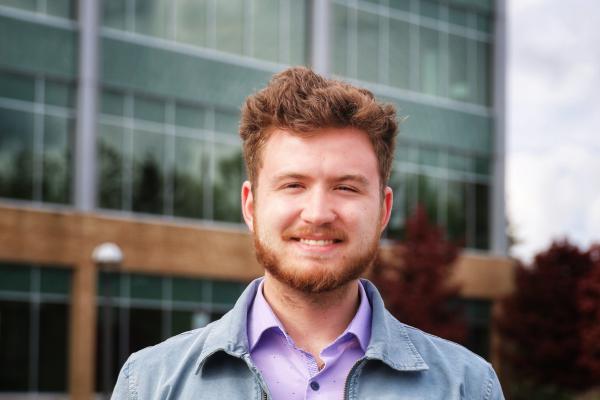 Alumni, Class of 2022
Oregon Tech software graduate finds home at DWFritz in Wilsonville
Originally from Romania, Simeon Florea moved to Oregon in 2012 and attended Beaverton Academy of Science and Engineering, a public high school in Beaverton. While in high school Simeon took many college courses — both at the academy and on the Oregon Tech Portland-Metro campus. His connections with professors like Dr. Ryan Madden and Dr. Greg Pak led to his decision to attend Oregon Tech's campus in Wilsonville after graduation.
"I was really attracted to the overall experience, great professors, and tight community, and ultimately chose to attend the Portland-Metro campus," said Simeon.
While at Oregon Tech, Simeon worked as an academic tutor and an OHSU research assistant in the Pulmonary and Critical Care Department, including assisting with COVID-related intervention studies. On June 12, he will graduate from Oregon Tech's Software Engineering Technology program with honors, including Outstanding Scholar in his program.
"What I like most about the program is the junior project and senior project sequences," Simeon explained. "The projects involve very little hand-holding and allow us to use our foundation on two yearlong projects to create a software application from scratch."
For his junior project, Simeon and his team created a general-purpose sports Android application. His senior project is based on a need his dad had to automatically categorize and store business and itemized receipts for business insight and tax purposes. Simeon said he is in the process of wrapping up the iPhone application using optical character recognition software to categorize and store receipts, and hopes to submit the app to be published on the App Store this summer.
"It was a culmination of everything I learned at Oregon Tech," he said. "I used the foundation I created in previous courses to come up with an architecture, write technical documentation, and ultimately write the software and create automated testing, build, and deployment pipelines."
While at Oregon Tech, Simeon worked at DWFritz Automation in Wilsonville as an applications engineering intern, having been referred there by a previous student intern. He did this while continuing to take classes.
"One of the most useful things in managing my work positions with taking classes has been the flexible schedules Oregon Tech professors offer, plus that Oregon Tech is aimed for working individuals, so a lot of my courses are at 6 p.m. or Saturdays," Simeon said.
After graduation, Simeon will continue at DWFritz in a full-time position. He enjoys how active DWFritz is in community outreach and their dedication to developing professional talent and providing college students with opportunities. He looks forward to staying in the Wilsonville community.
"I have made many friends from many majors, and I am glad I am getting my degree here. The location in Wilsonville is great due to the tech industry in the Portland-Metro area. All my friends graduating this year have found themselves software employment at many of the tech companies in the area, including Intel, and more by leveraging the connections we make."