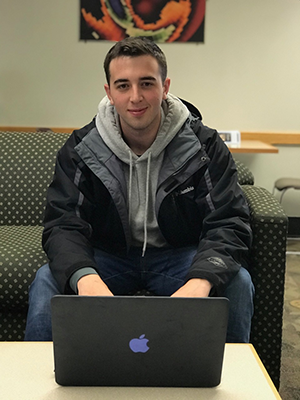 Alumni, Class of 2020
Why did you choose Oregon Tech?
I chose Oregon Tech because I saw great value. One of the figures that stood out to me when looking at schools was the return on investment, and Oregon Tech excels in that field.
What do you like most about your program?
What I like about the business management program is hands-on learning. On my first day of my first marketing class we were already creating content that would actually be posted to the school's social media. I love marketing because it combines creative thinking with data and statistics, two things I enjoy.
What would be your dream job?
My dream job would be to work on a professional sports team's marketing team. I have always been drawn to sports and would enjoy working around them. Working for any professional sports teams in Portland would be as good as it gets.
What have been some of your favorite classes and why?
I really enjoyed principles of management because we got to dive into the history of some of the greatest leaders to ever live. Their stories were inspiring to say the least. I also enjoyed my databases class that has taught us how to create useful databases. It is a very applicable skill to be able to build a database. I can see it being very useful, especially if I ever get involved in a small business.
Is there anything about Oregon Tech that you wish everyone knew about?
I wish everyone knew how beautiful it is here. There is a sunset almost every night, the rolling hills are beautiful, and the view of Klamath Lake from campus is amazing. And when the snow falls and covers everything in a blanket of white, it's a whole new beautiful.
Are you involved on campus? If so, how?  
I work for the Men's Basketball team and with the athletics department as a whole. I create graphics for the athletics website, take photos at games, and help run social media. I go to almost every home sporting event. These jobs have also given me many opportunities to design. I designed the home basketball game ticket stubs, the game day program cover, and many of the animations that plat on the video boards during games.
Is there anything more that you would like to share with future students about campus, what you wish you knew before attending Oregon Tech or anything else?
Get involved in some campus activity. It's the best way to meet people and discover passions at the same time!