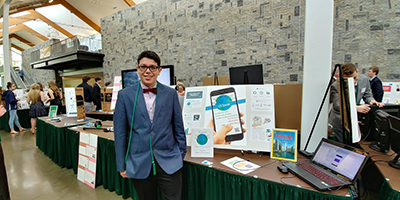 Student, Class of 2020
Hometown
Ballston Spa, New York
Awards/Accomplishments while at Oregon Tech: Awarded FIRST Robotics Scholarship, President's ListWhy did you choose Oregon Tech?
I was looking for a college that gave me the options to go more in-depth into the field of computers, down to the components that make up our modern world. And OIT was the only school with the reputation and specific major that would best suit me. 
What do you like most about your program?
It allows me to get a few internships within my field of study during my time at college. 
What are you passionate about changing within this particular field and why?
I am fascinated by the progress of microprocessors and electrical devices. And want to further this progress by changing the way we approach battery technologies.  
What would be your dream job?
My dream job would be at a work place where problems are constantly thrown at me and I am required to solve them. Not only that but managing and updating older systems that have already been put in place.  
What have been some of your favorite classes and why?
My favorite classes so far have been digital logic 1 and speech. I like digital logic 1 because its teaching me the fundamentals that I will need to understand how the components of a computer communicate and share information. While speech has taught me important skills that I must keep reinforcing in work group environments.  
Is there anything about Oregon Tech that you wish everyone knew about?
OIT has very nice teachers, who will go out of their way to help you if you are struggling with the material. 
Are you involved on campus? If so, how?
I am part of Latino club where we have meetings every week and talk about life on campus as well as events that we will be participating in, to spread awareness of our culture. 
Do you have employment/graduate school plans for after graduation?
I am looking to get a job in the semiconductor industry in either California or Oregon. 
Is there anything more that you would like to share with future students about campus, what you wish you knew before attending Oregon Tech or anything else?
Oregon Tech is a great campus if you are interested in any technological field as well as medical fields. There are a lot of opportunities to excel and get involved in campus.