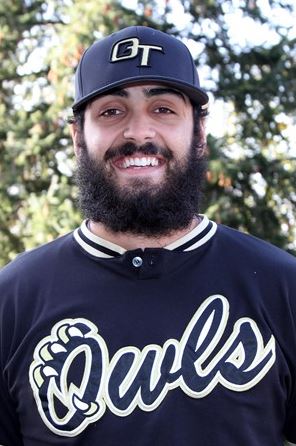 Student, Class of 2020
Awards/Accomplishments while at Oregon Tech: 4 Year Oregon Tech Baseball player, multiple Dean and President's List appearances,
Why did you choose Oregon Tech?

Originally, I chose Oregon Tech because I was drawn to the medical imaging modalities and I could play baseball at the collegiate level. Upon arrival, I realized that the imaging modalities were definitely not what I wanted to do. I stumbled upon the Respiratory Therapy program and the rest was history. That choice turned out to be the best decision to date.

What do you like most about your program?

The thing I enjoy most about my program is the personal relationships built with the professors. I don't think of them as traditional educators, but more as mentors. They go above and beyond what the curriculum requires, and they provide sound advice about life and personal decisions. If it wasn't for them, this program would not be among the best in the nation, they are the unsung heroes of Oregon Tech.

What are you passionate about changing within this particular field and why?

I am passionate about cultivating a new culture in respiratory therapy with my cohort. Traditionally, RTs were looked down upon and did not have many responsibilities. I feel that our class is much more capable and is going to pave the way for more autonomy and responsibility in the medical workforce.

What would be your dream job?

My dream job would be performing helicopter transport with my degree. I want to be there for a patient's worst day and use my education and clinical skills to give them the best possible chance to see another day.

What have been some of your favorite classes and why?

My favorite class has been CHE 360 (Pharmacology) because it was by far the most challenging class I've ever taken at Oregon Tech. That class pushed me to my limits and gave me perspective on how hard my classes really are. It was the most gratifying because I ended up pulling an "A" out and showed me that I'm capable of much more than I ever thought I could be.

Is there anything about Oregon Tech that you wish everyone knew about?

The respiratory therapy program, Oregon Tech's best kept secret. Oregon Tech is known for the engineering and imaging degrees, but in my opinion, the respiratory therapy program is the least talked about and most rewarding program here.

Do you have employment/graduate school plans for after graduation?
The best thing about the respiratory therapy program is the high job placement rate. There is a high demand for RTs so I don't have to get sucked into a hospital I don't want to be at. Right now the focus is to graduate, then I'll see where the wind takes me.