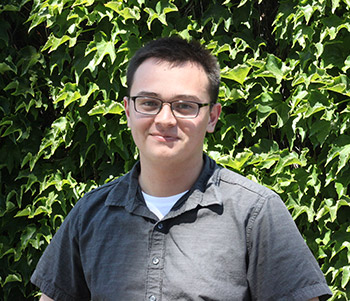 Student, Class of 2018
Hometown
Klamath Falls, OR
Why did you choose Oregon Tech?
I'm from Klamath Falls, so I already knew a lot about the school. It was a pretty easy choice for me honestly since I already knew about the success rate and it'd be financially smarter for me. I went to KCC after high school wanting to go into Graphic Design for Web Marketing, but at the time, Oregon Tech didn't offer anything remotely close to it, so I joined CSET instead. Turns out I'm awful at math and better at writing, so I found that COM was a much better choice for me. No regrets with that choice at all.
What do you like most about your major?
Everyone knows each other in the COM major. The major is small compared some others in this school, so it's really hard to not know everyone in COM eventually. Our relationships with our professors are also much closer because of that. Students from other programs are surprised when they see us call our professors by their first name instead of Doctor or Professor. Also it's a pretty diverse major because of the nature of the program, so you'll meet people from all walks of life.
What are you passionate about changing within this particular field and why?
I'd like to see a little more focus on marginalized fields like artifacts and game theory. There's still a lot that can be discovered in these subjects, but it's hard to find where to look at times. The hardest part of this field is simply recognizing that a communicative phenomenon is actually happening. That's because there's no absolutes (laws) in communication, only rules.
What have been some of your favorite classes and why?
There were a lot of memorable classes I've taken, but COM Research was probably the most rewarding one. That class taught me how to apply concepts I've learned from other COM classes into real-world situations. It also gave me the opportunity to go to the NWCA at the Coeur d'Alene Resort in Idaho to present my research paper with other students. I'd recommend every COM student to continue with their research project just to go to the conference; it's worth the extra effort put into the paper.
What's your favorite thing to do off campus?
I hang out at our local hobby shop, Basin Gaming. I wasn't even into cards at all until some friends invited me to play cards while I was a student at KCC. Oddly enough, I was recommended to check out the COM program after I dropped out of CSET because one of the COM alumni frequented the store. So without this hobby, I wouldn't be here today (as weird as that may seem). I've had countless memorable experiences and met so many great people through this hobby and I couldn't be more grateful. As a bonus, I even got employed there part-time and couldn't have asked for a better job while in school!
Do you have employment/graduate school plans for after graduation?
Potentially going to graduate school after my time in the Air Force; not quite sure yet. If I do, I'd want to be able to apply new leadership and life experiences towards any future higher education. More importantly, I'd like a break from school—I feel like it's deserved after I've been doing it essentially my entire life.
Is there anything more that you would like to share with future students about campus, what you wish you knew before attending Oregon Tech or anything else?
I feel obligated to relate my personal philosophy with a COM twist: Really take the time to reflect on the experiences you've had during your objectives. You may end up learning something that's more important than your goal along the way.