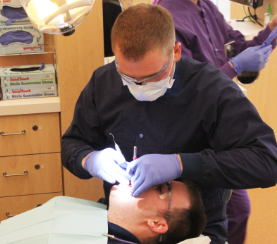 Fully online course required for student planning to attend Oregon Tech's Dental Hygiene program in Klamath Falls or Salem.

Students completing the Pre-Dental Hygiene program locally who only need DHE 100 should apply with the Non-Degree Seeking application.  The transfer application is needed for the Fall term you plan to officially join the Dental Hygiene program.
The Introduction to Dental Hygiene includes an orientation to the theory and practice of all aspects of the dental hygiene profession.  The history of dental hygiene, professional organization and career opportunities are discussed.
Application Process
Full admission to Oregon Tech is not required to complete DHE 100. Financial aid is not offered to non-degree seeking students but a payment plan is available. Follow the steps below to get started:
Visit www.oit.edu/apply. Select Undergraduate then Non-Degree Seeking application.
Select Online Learning for your campus and Pre-Dental Hygiene as your major.
Watch for an email from the Admissions Office about registration.
Register yourself for DHE 100 when registration opens.
Non-degree seeking students do not pay application fees since they are not attending a degree program and are limited to 8 credits per term.
Once registered you are responsible for the tuition and fees. The payment and refund schedule, along with the payment plan application, is located on the Cashier's Office website. The Academic Calendar details important registration dates and withdraw deadlines.
Coordinate your Financial Aid
If you are currently attending a community college, you may be able to receive financial aid to cover DHE100 tuition and fees along with your other community college courses. To do so, inquire at your financial aid office regarding a consortium agreement with Oregon Tech. Your financial aid office can assist you in filling out the agreement and sending it to Oregon Tech for completion. Please fax consortium agreements to the Oregon Tech Financial Aid office at 541.885.1024. For additional information, contact the Financial Aid office at dollars@oit.edu or call 541.885.1280.