Students analyze environmental conditions and problems through applied research and fieldwork, all within the stunning natural setting of the Klamath Basin.
What You'll Learn
A degree in Environmental Sciences prepares students for immediate employment and graduate studies in the assessment and monitoring of environmental conditions and problems, including research, monitoring, mitigation and restoration. The program focuses on applied scientific reasoning and methodology to study natural and human environments from interdisciplinary systems perspectives with strong emphasis on reading, writing, and oral communication. The curriculum builds on four cores: natural sciences (biology, chemistry, and physics); mathematics (including calculus and statistics); geographic information systems (GIS); and integrated social sciences (including economics, geography, and bioregional studies).
Upon completion of the program, students will have demonstrated the following outcomes:
A strong applied foundational knowledge of environmental systems including physical and biogeography, aquatic and terrestrial ecology, and environmental chemistry;
An understanding of the complex relationships between natural and human systems, as well as environmental science and technology;
The application of mathematical and statistical concepts, to field and laboratory data to study natural phenomena;
Use of GIS to solve geospatial problems;
Design, execute, and communicate a scientific project.
Environmental Science and Technology
Students within the Environmental Sciences program put their knowledge into practice in the best place possible—the great outdoors.
Starting with Introduction to Environmental Sciences in the first year, emphasis is placed on active experiential learning, which faculty members take seriously by introducing students to all that the Klamath Basin has to offer. Not only does Oregon Tech's Klamath Falls campus have on-campus study sites such as the Native Garden- a joint project with US Fish & Wildlife- but faculty also maintain many partnerships with the US Forest Service, Bureau of Reclamation, Bureau of Land Management. With small class sizes, personalized curriculum, and real-life, hands-on education, Oregon Tech's Environmental Sciences degree program graduates highly skilled and marketable students.
Oregon Tech students may consider a concurrent degree in Civil Engineering to expand career opportunities.
Image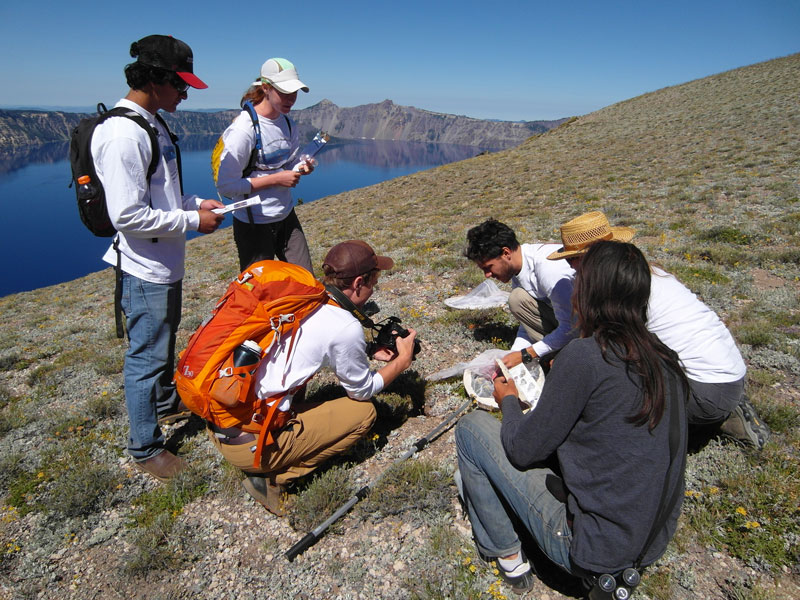 A Degree Built in the Great Outdoors
Cross-departmental collaborations allow Environmental Science students to gain a broader picture of their program and an appreciation for the history that changed the landscape they study on.
Environmental Science and History professors team up to collaborate on a course that allows students to experience the Klamath Basin to teach them about what many have called the region's lifeblood: water. This interdisciplinary collaboration provides students with a broader picture than they would receive from an environmental science or history course alone. The class is a pre-historical survey of the area's geography and geology and also considers the status of modern day irrigation systems.
Students also learn about the former Klamath Basin Restoration Agreement (KBRA) and Klamath Hydroelectric Settlement Agreement (KHSA), which have both garnered considerable media attention during the past several years. As part of the curriculum during the pilot fall 2017 term, students visited Hagelstein Park, the Lower Klamath Wildlife Refuge, the headgates of the A Canal, J.C. Boyle Dam and the Sprague River Valley.
Careers
With 100% of Oregon Tech Environmental Sciences graduates either employed or seeking an advanced degree within six months of graduation, Oregon Tech graduates enjoy success thanks to the unique, in-demand knowledge and skill set they gain in our program.
Environmental scientists are hired for a variety of jobs because they have been multi-disciplinary training including ecology, biology, hydrology, chemistry, physics, technology and social sciences. Among many possibilities, environmental scientists can be biological and hydrology technicians, environmental compliance and regulation officers, sustainability coordinators, energy analysts, geographic information system (GIS) specialists, wildlife and fisheries biologists, or natural resource managers.
Our graduates work for:
Bureau of Land Management
Fremont-Winema National Forest
Alumni, Class of 2016
"I believe that everyone should take time to study abroad, and that those who don't..."
Featured Courses
The hands-on courses at Oregon Tech will help you explicitly prepare you for a career utilizing environmental science and technology. Some courses that a student at Oregon Tech might take include:
The Digital Earth
Introduction to the digital representation of the features and attributes of our natural world. Concepts, vocabulary, and use of GIS and GPS, and how these systems help solve geospatial problems. Integration of GPS data into GIS. Introduction to the use of various 'free-ware' software applications used for geospatial analysis.
Watershed Science & Technology
Science and technology of watershed processes, monitoring, and assessment. Applications and case studies focused on sustainable management and restoration of water resources and their associated aquatic, riparian, and upland ecosystems. Local and regional sites of interest are highlighted.
Environmental Science, Law, and Policy
Overview of legislative, regulatory, and policy-based activities involving the development, management, and restoration of natural ecosystem services. Emphasis is on the National Environmental Policy, Clean Water, and Endangered Species Acts, with illustrative case studies from local and regional environments.
Wildlife Ecology
Explore fundamental concepts and applied methods in the study of wildlife populations. Focus on study of wildlife habitat, animal movements, and wildlife diseases. Develop skills in wildlife data analysis, animal capture, marking and remote tracking.