Are you looking to begin your education in the dynamic and growing field of information technology? Or, are you an IT professional seeking continuing education, advancement or new options in your career?
The IT field is varied and interdisciplinary, with applications to all aspects of the economy. Graduating students are prepared to bridge the technology and management disciplines in their organizations. Core business disciplines taught include analytical skills and problem solving; business organization and management; project management; leadership, teams, and communications.
About the online Information Technology program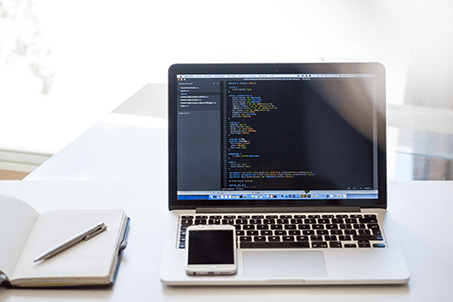 By earning your B.S. in Information Technology from Oregon Tech you will be prepared to begin, or advance your career with the knowledge and skills that employers across the country and around the world are looking for in this high-demand field.
Throughout the program you'll be exposed to all the major IT specialties, including:
Application Development
Systems Analysis
Data Management and Analytics
Information Security
Network and Systems Administration
Working with your faculty advisor you can select one or more of these areas to focus your studies on through additional advanced coursework in our one-of-a-kind Enterprise Technology and Cybersecurity Lab.
Careers in Information Technology
Oregon Tech graduates are successful in the workplace because of the unique, in-demand knowledge and skill set they gain in the online Information Technology program.
Graduates of Oregon Tech's B.S. in IT – the only program of its type in the Northwest – are prepared through a hands-on, career-directed technology program that produces innovators and problem solvers that excel in their field. Oregon Tech's belief in the power of a hands-on education means that our graduates have the best technology placement track record of any public colleges or universities in Oregon and in many other states as well. An IT degree from Oregon Tech means something to the people you want to work for.
Our graduates work for:
Intel
Google
Nike
Kaiser Permanente
Tripwire
Mentor Graphics
Asante Health Systems
Career Paths:
Network Administrator
Business Analyst
Database Analyst/Administrator
Systems Analyst/Administrator
Application Developer
Courses
We prepare our students to be IT professionals. With a variety of concentrations ranging from Networking to Business Analytics, the hands-on courses at Oregon Tech will help you prepare for a career in the information technology industry. Some courses that an Information Technology student at Oregon Tech might take include:
Installing and Configuring Windows Server
Introduces the fundamental skills required to install, configure, and manage a Windows Server.
Intro to Relational Databases
Covers the fundamentals of relational databases, and their management and operation.
Advanced Programming
Advanced survey of programming topics in areas such as Object Oriented, Data Mining, Business Intelligence and Web Scripting.
Information Systems Security
An overview of security challenges and strategies of countermeasure in the information systems environment.
Accreditation
Northwest Commission on Colleges and Universities
Oregon Institute of Technology is accredited by the Northwest Commission on Colleges and Universities. NWCCU is an institutional accrediting body recognized by the Council for Higher Education and/or the Secretary of the U.S. Department of Education.

Oregon Institute of Technology has received specialized accreditation for its business programs through the International Accreditation Council for Business Education (IACBE) located at 11374 Strang Line Road in Lenexa, Kansas, USA.  See additional information regarding the accreditation and public disclosures.