Campus Safety's Priorities
Oregon Tech Campus Safety on the Klamath Falls campus is committed to our community. In the wake of recent health concerns worldwide and at Oregon Tech, this gives the Campus Safety department and its officers an opportunity to assure our community that we are on the job. Oregon Tech Campus Safety operations will continue to serve and protect persons and property on our campus.
The following are ways that Campus Safety serves and protects our community.
Patrol all Campus Properties

Foot Patrols: Campus Safety officers walk the campus grounds. Foot patrols include all campus buildings with checks of the inner campus locations. The patrol officers will make sure that buildings are unlocked at the appropriate times and that buildings are secure when required. The officers will also make sure that there are no obvious structural or mechanical issues with each building as they make their way through. These patrols also include checks on faculty and staff office areas, classrooms, and labs for security and safety priorities.
Vehicle Patrols: Campus Safety officers will also patrol Oregon Tech properties by patrol vehicle. The focus of these vehicle patrols is to make sure that there are no issues off the main roadways, inner campus roadways parking lots, and extended university boundaries. These patrols will confirm that Oregon Tech's employees, students, and staff along with personal and state properties are safe and in good working order respectively.

Calls for Assistance/Service

If you are in need of assistance while you are on campus, please do not hesitate to call the Campus Safety officer on duty. This can be done by dialing the officer cell phone at 541.891.2143. The officer carries this phone while on shift at all times. The officer on duty will answer the phone 24/7.
Rest assured that if your call is of a critical nature, the Campus Safety officer on duty will make sure that appropriate agencies are contacted for appropriate responses as well. This response can include but not be limited to the Klamath Falls police department for criminal activity, the Klamath County Fire District #1 for a fire, injury, or severe illness.
If you are a student and need someone to talk to, please consider calling the Campus Safety officer on duty. You can reach out 24/7 by the officer cell phone. That number, again, is 541.891.2143. The officer will listen to you and provide resources for you to connect with. If you just want to talk, they are a great sounding board for you.
If you have a concern for a person or issue on campus that needs the attention of the on duty officer, please do not hesitate to call. Examples of concern could include a friend that is sick or is having a hard time coping, a suspicious person seen on campus, a motor vehicle accident, or the smell of or even sight of smoke, call the officer on duty for assistance.
If you lock yourself out of your vehicle or even need a jump-start at any hour, call the Campus Safety officer on duty for assistance.
If you would like a transport from one location on campus to another or for someone to walk with you after dark (or for extenuation circumstances), contact the officer on duty. The officer will make sure that you arrive at your destination on campus, safely.
Partners for a Safe Campus
The Campus Safety department administers the university's security and parking programs. The department promotes security on Oregon Tech campuses through emergency and non-emergency response services, problem solving, and enforcement of appropriate laws, rules, and regulations. The Campus Safety department also provides service functions such as crime prevention and crime reporting programs.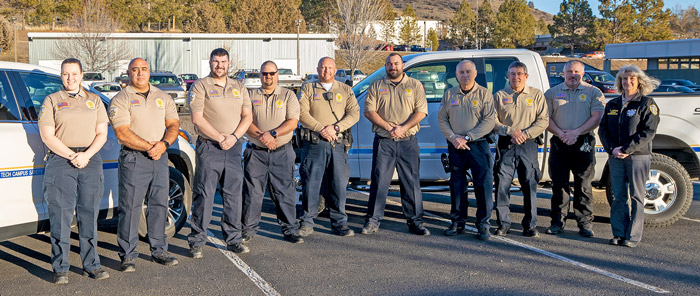 New Uniforms. Same Great Service.
Campus Safety and Parking Services personnel have new uniforms featuring gold polo shirts and navy BDU-style pants.
Training & Presentations

Senior Patrol Officer Chris Bowman, of the Campus Public Safety Department and certified instructor in ALICE training, will be hosting several FREE campus community trainings. The topics will include self-defense and active shooter response.  Please make it a point to attend one of these sessions.  You may either sign up with officer Bowman by emailing your chosen training and date to christopher.bowman@oit.edu or stop by a training on the day.  All training sessions are approximately 2 hours in length.  Scheduled trainings will be listed below.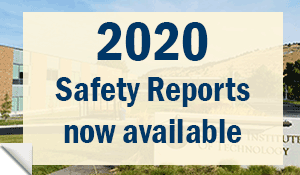 Campus Safety is committed to assisting all members of the Oregon Tech community in providing for their safety and security. Annual security and fire safety reports, by campus location, are made available online. The annual security and fire safety report for the 2020 calendar year is available here.