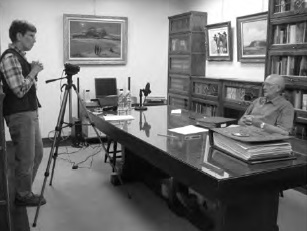 The Shaw Historical Library wants to interview Klamath region residents about their memories of historical events and changes in the area over time. Interviews will become part of the Shaw Oral History Collection.
Library staff will use information from the interviews and the interviews themselves on the Shaw Historical Library website, in exhibits, and in other ways to help researchers and the community become more familiar with the Land of Lakes' history.
To become part of this project contact us at (541) 885-1686 or by email.
This project is supported in whole or part by the Institute of Museum and Library Services through the Library Services and Technology Act, administered by the Oregon State Library.
Possible Discussion Questions:
How long have you lived or worked in the Klamath basin or county?
Are you descended from a homesteader or an early settler?
Are you a member of a historical group such as the CCC, World War II veteran, Native American, 2001 water crisis participant, or employed in logging, forestry, or agriculture?
Did you help in the establishment or government of local towns or special districts?
What kind of changes have you seen over the years?
Was there anyone in this area who had a strong influence on your life—co-­‐worker, civic leader, minister or friend? Tell us about them.
Do you have any favorite local stories from your experiences?
Would you tell us about the friends and neighbors that you grew up with?
What are your best and worst memories of local events? Humorous stories?
What are your predictions for the future of your town, profession or group?
Please Bring Your Photographs and Memorabilia to Share
With your permission we can scan your photographs to add to the Shaw Historical Library collections.
You will sign gift agreements to formally add your interview and other materials to the collections