UPDATE:
The following courses, certificate program, and degree completion courses are currently not available until further notice:
      ·        MIT 341 Magnetic Resonance Imaging
      ·        MIT 342 Magnetic Resonance Imaging II
      ·        MIT 365 - Mag. Resonance Imaging Review
      ·        Radiologic Science and Nuclear Medicine degree completion programs must waive any and all MRI courses
What You'll Learn
Nuclear Medicine and Molecular Imaging Technology is a patient-oriented program that combines chemistry, physics, mathematics, computer technology, and medicine using radioactivity to construct images of organs and study physiological processes for diagnostic, therapeutic and research purposes. Nuclear Medicine Technologists play an integral role in the health-care team, working with patients, physicists, nuclear pharmacists, computer specialists, nurses, secretaries and other health-care professionals and are employed in hospitals, universities, medical clinics and research centers across the United States and abroad.
Graduate success rates include:  
100% Pass Rate on the national ARRT Registry examination for the past 21 years. 
6% Have completed, or are pursuing, graduate degrees, PA school or medical school. 
22% of graduates have become leaders in their departments or at some level of leadership above their department.
The Nuclear Medicine and Molecular Imaging Technology Program:
Prepares students to perform as compassionate and caring health care professionals.
Prepares our graduates to sit for the ARRT registry examination.
Teaches students to think critically, communicate effectively, and demonstrate professional ethics.
Challenges students to utilize diagnostic techniques, sound judgment and good decision making to provide patient services.
Makes students aware of radiation safety protocols and procedures to reduce exposure to themselves and patients.
Featured Courses
Courses cover the physical sciences, biological effects of radiation exposure, radiation protection and procedures, the use of radio-pharmaceuticals, imaging procedures and techniques including PET and CT, patient care, and computer applications. For a more comprehensive scope and sequence, please see the program curriculum.
Our students take the same Computed Tomography and MRI courses that the Radiologic Science students take. This amounts to:
30 hours of Computed Tomography lecture
30 hours of Computed Tomography lab in a CT/MRI simulator lab
30 hours of Cross Sectional Anatomy
30 hours of MRI lecture
30 hours of MRI lab in a CT/MRI simulator lab
These courses far exceed the 16 mandatory hours of didactic coursework in Computed Tomography and Cross Sectional anatomy required by the ARRT for graduates to take the ARRT registry examination in Computed Tomography. The same goes for MRI. These courses, in addition to the required clinical competencies in CT or MRI while on externship, allow our graduates to sit for the registries with the ARRT in either CT or MRI after they graduate from Oregon Tech.
PET Imaging
Positron Emission Tomography (PET) imaging utilizes proton rich radionuclides to image metabolic activity of various types of cells within the human body. In particular, PET imaging assesses the growth and spread of certain types of cancers and their response to therapy, cardiovascular disease, and changes in neurological conditions.
SPECT/CT Imaging
Spect/CT (Single Photon Emission Computed Tomography) Imaging has become a standard imaging method in most Nuclear Medicine and Molecular imaging departments today. Spect/CT imaging utilizes emitted data from the patient to identify physiological changes in organ systems while the CT component provides an anatomical reference image for those same organ systems.
Theranostic Imaging
Theranostic imaging is a growing area of Nuclear Medicine and Molecular Imaging Technology that utilizes molecules labelled with diagnostic tracers. These tracers bind to the cell surface of various cancer cells and allows us to image them. Once these cells are identified, the same molecule is then labelled with a therapeutic tracer that can then bind to the same cancer cells and kill them.
Outcomes
Nuclear medicine and molecular imaging technologies, including PET/CT and SPECT/CT, are expected to be used increasingly and to contribute further to employment growth. The wider use of nuclear medicine and molecular imaging to observe metabolic and biochemical changes during neurology, cardiology, and oncology procedures also will spur demand for nuclear medicine technologists.
Employment
Nuclear Medicine Technologists are employed in hospitals, universities, medical clinics and research centers across the United States and abroad. There are more than 20,700 Nuclear Medicine Technology positions throughout the country. After further study, graduates may advance to positions such as chief technologist, research technologist, health physicist, radiation safety officer or an educator.
In 2021-2022, Oregon Tech faculty conducted a salary survey of alumni and clinical sites. These data are averages listed by state:
 
              Oregon: $92,331
              Washington: $92,435
              California: $118,685
              Bureau of Labor and Statistics Data (2022): $84,850
 
Previous Externships Sites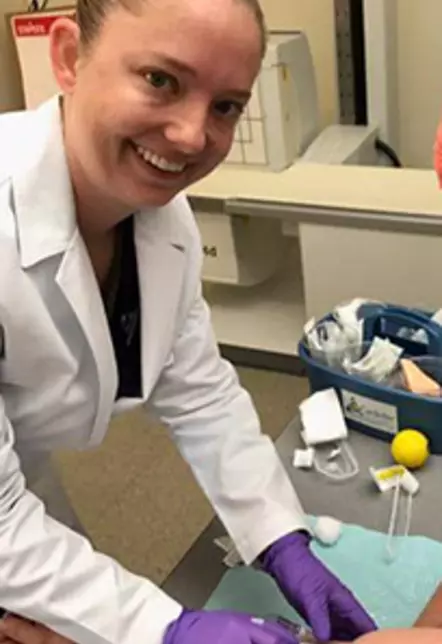 Student, Class of 2019
"I feel like they are preparing me to hit the ground running when I get into the hospital setting."