Welcome from President Nagi G. Naganathan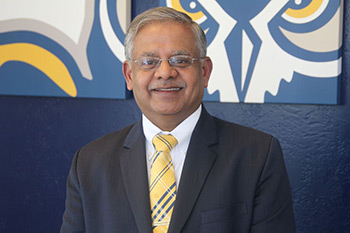 Welcome to Oregon Tech, the Northwest's premier public polytechnic university. Our rising profile and national rankings are clear indicators of the return on investment that our graduates achieve. With a 96 percent success rate—of graduates employed or continuing their education within six months of getting their degree—and among the highest average starting salaries in the state at $60,000, our degrees are in-demand and our graduates are sought after by companies and organizations.
There are so many exciting initiatives underway at Oregon Tech as we celebrate our 73rd anniversary this year of nurturing distinctive, career-ready professionals in the areas of engineering, technology, healthcare and other degrees. New programs that are unique in the state and region have been launched recently including the groundbreaking bachelor's degree program in Population Health Management; and the master's degree in Engineering, a responsive program begun after industry leaders and professionals expressed the need in the region. That is what Oregon Tech does: we listen to our students and the employers that hire our students about what types of education and career experiences are needed to be at the top of the field.
Oregon Tech's connections with industry and the workforce bring advantages to our students' learning, innovation and engagement. Students have access to internships, externships, community field work, capstone projects, exciting lab experiences, and faculty that bring industry experience directly into the classroom.
The value Oregon Tech provides our students has been recognized in quality rankings, such as our US News ranking in 2019 as #2 Top West Regional College, and #32 nationally for Best Engineering Programs. Some of our top rankings can be found on our website. Additionally, many of our 40+ degree programs hold various regional and national accreditations (all of our engineering programs are ABET accredited), and Oregon Tech holds institutional accreditation by the Northwest Commission on Colleges and Universities (NWCCU).
Whether you are a prospective student or parent, a company looking to partner in nurturing the most talented workforce, a donor looking to make a transformative investment, or a legislator gathering information to best represent your constituents, we welcome you to Oregon Tech. You will find us to be a university committed to excellence, innovation, and student-success. Please come and visit. We have a truly unique model of education that is producing innovative problem solvers with solid degree experiences that are in-demand, not just in Oregon and the region, but nationally and globally.
Sincerely,
Nagi G. Naganathan, Ph.D., ASME Fellow
President
Oregon Tech