Would you like a career that is exciting, rewarding, and offers many career advantages?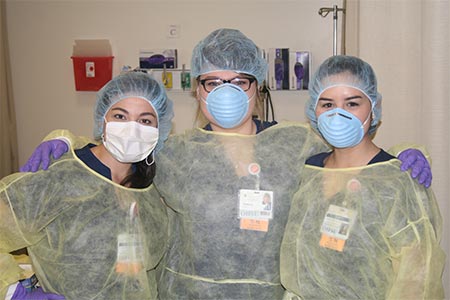 Would you like a career that is exciting, rewarding and offers many career advantages? Are you interested in acquiring sound clinical judgment, excellent technical skills and the ability to improve human health?
At Oregon Tech, you'll learn sound clinical judgment and excellent technical skills, while completing the Oregon Health & Science University (OHSU) School of Nursing program prerequisites and non-nursing course requirements necessary to apply to the Nursing program and complete the Bachelor of Science in Nursing degree through OHSU.
The nursing program focuses on the development of critical thinking and judgment, understanding of health systems and economics, interdisciplinary care, public health and communications in a variety of health care settings.
The campuses of OHSU School of Nursing (Ashland, Klamath Falls, La Grande, Monmouth and Portland) are internationally recognized for excellence in research. School of Nursing faculty members believe that nursing science is not an end in itself, but rather a systematic process used to enhance nursing practice and improve the health care of individuals, families and communities. The school consistently ranks among the top nursing schools funded by the National Institutes of Health. The combined efforts at the campuses contribute to education, practice, research and technology that enable students and faculty to provide advanced education and health care services throughout Oregon.
Oregon Tech/OHSU's Bachelor of Science in Nursing program is accredited by the Northwest Commission on Colleges and Universities (NWCCU) and the Commission on Collegiate Nursing Education (CCNE).
Students can meet with an Health, Arts, and Science advisor (the advisor for the College of HAS is listed below). If a student is unsure who their assigned academic advisor is, please contact the department chairperson or the college's HAS advisor.
Academic Advisor - Retention Coordinator
Careers in Nursing
This program focuses on the development of critical thinking and judgment, understanding of health systems and leadership, interdisciplinary care, public health and communications in:
Communities (schools, community service agencies, health clinics, homes)
Outpatient and transitional care clinics
Hospitals (critical care, medical surgical units, operating rooms, emergency departments)
Research Labs
Clinical experiences are available in diverse settings and community placements in unique medical centers.
Courses
Students who complete prerequisite courses at Oregon Tech will be given additional consideration in the OHSU application process. Once accepted to OHSU, students can finish the BSN degree right here in Klamath Falls on the Oregon Tech campus.
The Bachelor of Science with a major in nursing degree prepares graduates to practice in a variety of settings and to care for individuals, families and populations across the lifespan. Students achieve competencies that address the rapidly changing health care needs of Oregon's aging and ethnically diverse populations. The curriculum has been thoughtfully and specifically designed to allow students to gain the skills and requirements necessary for nursing practice today.
This is a three-year program that is designed for students to complete the 45-credits of prerequisite courses at any regionally accredited college or university (like EOU, Oregon Tech, SOU or WOU) and then join OHSU for the nursing coursework. Graduates are eligible to take the National Council Licensing Examination (NCLEX) after successful completion of the program.
Each campus provides state of the art technology, outstanding nursing faculty and multiple clinical opportunities as well as unique campus climate and learning environments. Applicants apply once to OHSU and designate the campus of their choice as part of their application process. Applicants can learn more about each campus by visiting OHSU's website.