What is Diploma to Degree?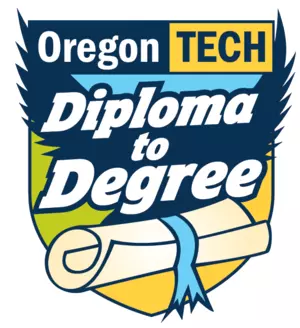 Diploma to Degree is an exciting new program connecting student experience in high school to a business management degree at Oregon Tech. Students at participating high schools who are active participants in business clubs and take dual credit courses can apply for this accelerated pathway to a college degree. High school graduates in the program who enroll in an Oregon Tech Business Management program are eligible to qualify for tuition scholarships for their first and last terms at Oregon Tech.
The program guides students into early credit opportunities while in high school resulting in considerable savings of time and money with seamless transfer and zero loss of credit for those who pursue a business degree at Oregon Tech. The ultimate goal of the program is to promote a business foundation, leadership skills, academic preparation, and successful transition into college regardless of the pathway high school graduates take to the degree of their choice. 
Benefits of Participation
Accelerated completion of an Oregon Tech business degree by applying up to 45 dual credits from high school.
Business Honors Scholarship first term and last term tuition remission for students

Complete at least on dual credit class in high school and matriculate to an Oregon Tech Business program to receive first term and last term tuition remission.
Eligible to apply for additional scholarships through Oregon Tech (March 1st deadline)

Jump into Business Day at Oregon Tech coming fall 2022
Comprehensive education planning for a smooth transition into college. Includes career exploration, college prep, and one-on-one advising provided by Oregon Tech faculty and staff.
"In our estimation, who wouldn't be interested in business? It's 90 percent of our waking lives. Everyone is touched by business somehow, so getting students to have a deeper understanding of business is crucial." 
- Herald & News