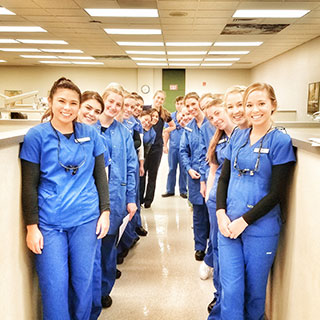 At Oregon Tech, support of active military and veterans is a point of pride for the university. Since the founding of the university in 1947 as a vocational rehabilitation school for World War II veterans, the school has maintained strong roots with support for and awareness of those serving in the military. The Oregon Tech Dental Hygiene Clinic brought this to another level for Veterans Day by providing free dental care to any active or retired service member.
In celebration and appreciation for service provided by military members, Oregon Tech's dental clinic leaders reached out to the Klamath County community to offer X-rays, cleanings, and limited dental exams on Tuesday, November 7th and Thursday, November 9th during student clinic hours. Students work right alongside licensed practitioners and dentists in state-of-the-art facilities, treating their patients using the latest technology, which provides them with clinical hours towards their dental hygiene license.
The clinic is self-sustaining to cover the cost of materials and supplies with basic preventive visits starting at $30 and higher, depending on the severity of oral disease and what procedures are needed. The clinic also offers limited restorations during the winter months in conjunction with students' Restorative courses.
Klamath County has a very large population of retired veterans and many do not have access to dental care. If they qualify for benefits through the VA, travel to White City is required in order to receive care, and then it is very limited. Many can't make the trip and can't afford to be seen in a regular dental practice.
Dental hygiene students are required to find their own patients as part of their clinical courses, which can be very difficult and stressful for them. This year, faculty leaders took the opportunity to help with patient recruitment and to make community members aware of this low cost dental hygiene option that is open to the public by not only offering free dental care to Veterans and active military, but also providing coupons at the Oregon Tech Haunted House in October.
"We felt this was a great way to give back, show our appreciation, and to help students find more clinical experiences," said department chair Paula Russell. "We are actually working to start an account for charitable giving through the Oregon Tech Foundation so that we can continue to offer this program year round. This would give the opportunity for individuals, businesses, or organizations to donate and 'Adopt a Veteran' to help subsidize the cost of receiving care here at the Oregon Tech dental hygiene clinic."
During the 26 hours the clinic was open, the response was very high and dental care was provided for more than 60 veterans and active service members, with the total value of services provided reaching more than $16,000.
As the clinic continues to work on setting up the "Adopt a Veteran" program, students continue to see patients of all ages on Tuesdays and Thursdays from 8 a.m. to 9 p.m. To learn more about the clinic visit www.oitdentalhygieneclinic.com. To make an appointment, or to donate to the Adopt a Veteran program, please call 541.885.1330.