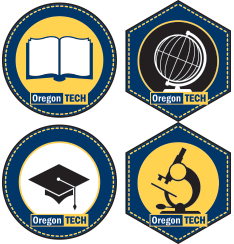 As part of a progressive movement towards micro-credentialing, Oregon Tech Online has created more than 20 digital "badges" for students and graduates to use as identifiers of skillsets they possess. This signals to employers the professional skills and competencies students have gained through coursework and certificate programs, enabling them to move into new positions and opportunities with their current or future employers.
Badges are currently being offered in several areas at Oregon Tech, including Healthcare and Information Technology, but the flexibility of designing each badge allows for nearly limitless possibilities. Any course, series of courses, or other types of assessment/outcomes-based offerings are badge-able. For example, it is possible to develop a badge for an exam, an award, successful completion of a coding "boot camp," or to reflect a specific skill set students may achieve at a certain point in their college career.
Badges are awarded electronically and can be displayed in any electronic format—LinkedIn, social media, e-portfolios, electronic resumes, websites, and other formats. Each badge awarded is linked to the skill set the student has acquired and it is verified by Oregon Tech so that no one else can appropriate another person's badge.
"At Oregon Tech we pride ourselves on our high graduate success rate of having graduates employed within six months of graduating," said Erika Veth, Dean of Oregon Tech Online Education. "A key component of this is to make their resumes as easy to read as possible. We want to help students and graduates catch the eye of potential employers and showcase their skills that are not always easy to sort through in a long resume. Digital badges allow us to do this and help us incorporate the changing environment of education and web use."
Employers are becoming familiar with badges because they reflect aptitude and skill sets that they may be in need of in their workforce, and the badges are aptly tagged so that someone searching for employees with certain skills can find them easily, and quickly verify without having to obtain transcripts. Similarly, if an employer is looking at a digital resume, she/he can click on the badge for a more detailed illustration of the applicant's skills.
This portability and transparency make it easy for individuals to represent online their full range of abilities to academic institutions, employers and industry peers. At Oregon Tech, these badges are awarded for excelling enough to be deemed proficient at the skill.
For example, Paul is a current student at Oregon Tech and is working on a degree in Radiologic Science. He is in his last year of schooling and has received a variety of skillsets that are critical towards his future career, but he does not have his actual diploma yet. However, he needs a job at this time and would like to show potential employers what skills he has, even though he does not have his Bachelor of Science degree at this time. He displays his digital badges on his resume and LinkedIn profile to show employers that he has a specialization in MRI. This means that he has not just completed courses in this series, but he has excelled enough to earn the stackable badges that equal this specialization.
Not only does Oregon Tech Online offer individual badges, but as in Paul's case, badges can be stacked to show specializations. Stackable badges can benefit people currently working in a field that requires them to stay current on their skillset (IT, cybersecurity, health informatics) or students who need to take pre-requisites before advanced education such as pre-med, pre-nursing, and pre-PA school.
The future of this credentialing also allows for employers to work with the university and design badging "groups" that identify step raises or advancement opportunities for their employees. Each of the badges provided is certified by Oregon Tech and is secure, verifiable and directs to the full context of the capabilities our students bring to an employer.
To learn more about Badging and Micro-credentials, contact Oregon Tech Online at 866.497.0008 or online@oit.edu.