College Union: Community center of campus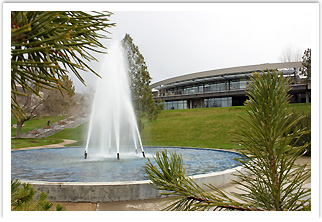 The College Union (or "CU" as it's known around campus) is both a physical location and an organization, which provides services, facilities, and programs designed to meet the needs of Oregon Tech students, faculty, staff, alumni, and campus guests.
When school is in session, the College Union is open 7 days a week, from 8 am to 10 pm. During breaks, the College Union is open Monday-Friday 8 am-5 pm and closed on weekends. The College Union Info Desk operates Monday-Friday 8 am-5 pm.
The College Union houses:
Information Office
Student/Staff ID Cards
Oregon Tech Postings
Lost & Found
Admissions
Student Involvement & Belonging (SIB)
Financial Aid
Student Affairs Office
Marketplace Dining
Owl Express
Union Bistro (coffee shop)
ASOIT (student government office, which functions as the activity center for all student organizations)
Campus Activities Board (CAB)
The Edge (student newspaper)
Game room
KTEC radio station
Student Veterans Program (SVP)
Outdoor Program (OP)
The Treehouse (formerly Diversity Center and Women's Resource Center)
College Union Operations
Auditorium
Document Resource Center (DRC)
Lounge Spaces
Meeting & Conference Rooms
The Tech Nest Bookstore
The College Union is an integral part of the educational life of the campus, serving as a center and forum for the academic community, which includes students, faculty, staff, alumni, and guests. As a facility, the College Union provides services needed to enhance the daily life of the campus. The College Union is designed to encourage students and other members of the campus community to meet and share talents, interests and ideas in an active learning environment.
In all its processes, through the management of its physical and human resources, the College Union encourages interaction of diverse cultures, ideas, and values. The College Union's continuing goal is the creation of an atmosphere that encourages an individual's self-development as a concerned and responsible student and member of the community.