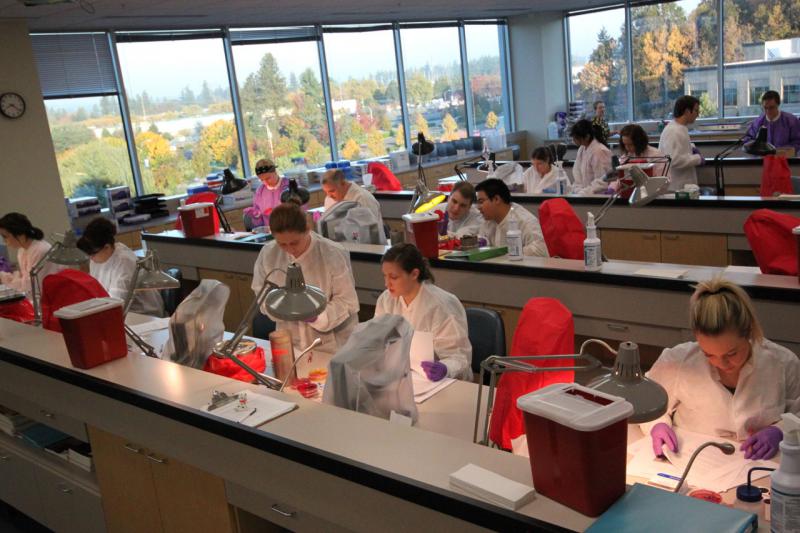 The exciting and rewarding field of Medical Laboratory Science (MLS) trains professionals to collect and detect changes in biological specimens that enable other healthcare providers to make diagnostic and treatment decisions for patients.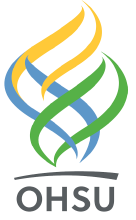 The Bachelor of Science in Medical Laboratory Science (BS MLS) is offered through a joint partnership between Oregon Tech and Oregon Health and Science University (OHSU). As the only program of its kind in Oregon and the largest in the Pacific Northwest region, we offer a rigorous and unique education that prepares graduates for career success. Designed around intensive coursework in biology and chemistry, specialized study of the immune system, body chemistry, and the hematological system, and extensive clinical lab work using state-of-the-art equipment to analyze real human samples, our students are prepared from the get-go to be the best MLS professionals around.
To make sure our graduates are adept and self-assured professionals, BS MLS students participate in an extensive externship program. This clinical experience, includes an on campus simulated lab completed before students participate in 12 weeks of applied study and training in clinical laboratories. This allows students to perform a wide variety of testing in a contemporary, accredited medical laboratory and to further develop and refine skills and competencies under the guidance of clinical instructors. We offer externship sites in accredited laboratories in Oregon, Washington, Nevada, Arizona, Alaska, Hawaii, Wyoming, Colorado and Idaho.
The Oregon Tech-OHSU Medical Lab Science program offers...
Excellent and experienced faculty and staff who are dedicated to student success.
Hands-on student laboratories.
A competitive admissions process.
A cohort model with dedicated students.
Supportive industry partners with over 50 clinical externship affiliates.
an OHSU partnership.
Oregon Tech MLS graduates are eligible to take the national American Society for Clinical Pathology (ASCP) Board of Certification exam. Most medical laboratories require medical laboratory scientists to be certified. There are currently twelve states and one US territory that require state licensure. These include California, Florida, Georgia, Hawaii, Louisiana, Montana, Nevada, New York, North Dakota, Puerto Rico, Rhode Island, Tennessee and West Virginia. Oregon Tech graduates meet licensure requirements for all states, except California and New York. Students should contact individual states' licensure boards for state requirements as these may change.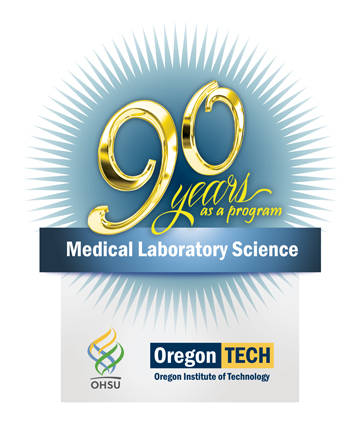 Mission Statement
The mission of the Oregon Tech-OHSU Medical Laboratory Science Program is to educate, train, and graduate professionally competent and ethical individuals, committed to life-long learning, and who are prepared to meet current and future workplace challenges in medical laboratory science.
Accreditation: The MLS program is accredited by the National Accrediting Agency for Clinical Laboratory Sciences (NAACLS), 5600 N. River Road, Suite 720, Rosemont, IL 60018, 773-714-8880. Web contact at http://www.naacls.org/
ASCP Board of Certification (BOC) Scores
The departmental faculty advise students. View the list of academic advisors.
If a student is unsure who their assigned academic advisor is, please contact the department chairperson or the Academic Advising office below.
– For questions regarding general admissions to Oregon Tech
An In-Demand and Versatile Career
Today there is a greater demand than supply of trained medical laboratory scientists. Employment opportunities are expected to grow 10 percent between 2019 and 2029 in the state of Oregon. The prevalence of chronic disease, a larger aging population, demands for personalized medicine, and the increased use of lab work in data collection will continue to drive the need for MLS professionals.

Graduates have a wide choice of practice settings: hospitals, independent laboratories, clinics, public health facilities, sales and marketing of diagnostic instruments and reagents, and federal and state regulatory agencies. In addition, a bachelor's degree in medical laboratory science provides an excellent background for admission to other healthcare professional programs, such as medicine and physician assistant.
 
As a result of our high standards and field-ready education, Oregon Tech-OHSU MLS graduates are prepared at the highest level. Many of our graduates are offered jobs before graduation.
Our Graduates Work For...
St. Charles Health Systems
Providence Health Systems
Featured Courses
The BS MLS degree programs consist of pre-professional and professional phases of study. In the pre-professional phase, students complete a minimum of 100-quarter hours in general education and field-specific coursework. Upon the fourth year students apply to enter the professional phase of the degree, which entails a combination of medical laboratory science-specific coursework and an externship.
Medical Microbiology
Lecture/lab coverage of human bacterial pathogens seen in the clinical laboratory including gram positive and gram negative bacilli. Principles and methods of clinical microbiology laboratory diagnosis of bacterial diseases are studied.
Hematology
Lecture and lab coverage of normal development and function of blood cells. Students learn to evaluate normal and abnormal blood cell morphology through microscopic examination of blood smears.
Molecular Diagnostics
Coverage of molecular techniques used in the clinical laboratory to diagnose disease associated with bacteria, viruses and genetic deficiencies. Topics covered include principles of molecular biology, nucleic acid isolation, purification, amplification, quantitation, and discrimination. Specimen collection/handling, viral culturing and molecular lab operations are also covered.