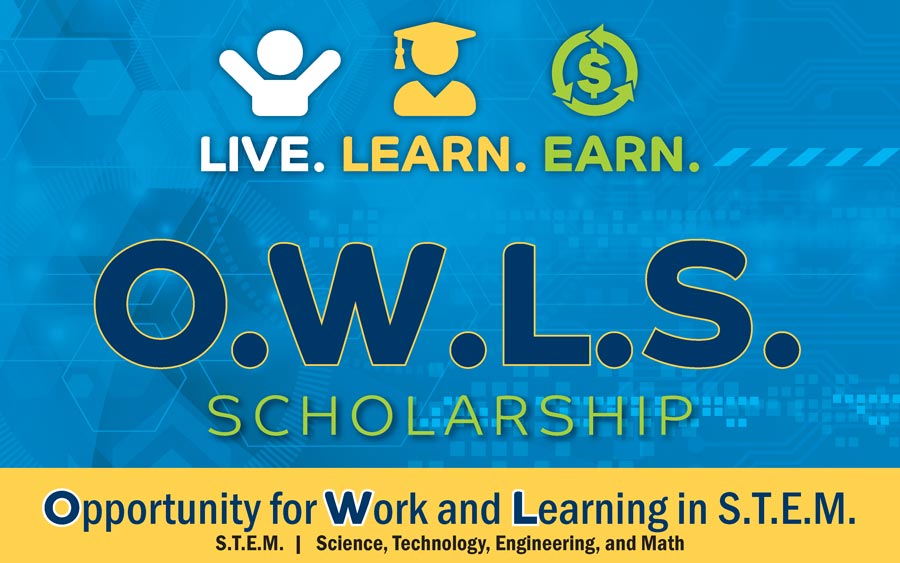 What is the Oregon Tech OWLS Program?
Oregon Tech's OWLS scholarship incentivizes completion of STEM-related dual credit coursework for Oregon Tech-bound students. Students who successfully complete at least 8 science, technology, engineering, or math (STEM) college credits through dual credit programming (college credits in their high school), early college or Project Lead the Way (engineering and technology credits by exam) programs are eligible to apply for the OWLS scholarship.
Students who are admitted to Oregon Tech and meet the OWLS criteria receive a one-year $1,000 scholarship. If the applicant's college credit was award through Oregon Tech, they will receive a one-year $1,500 scholarship. Students need to complete the OWLS Scholarship application by March 1st and meet eligibility requirements to receive the scholarship.
How does it work?
Oregon Tech and other colleges throughout the state partner with high schools to identify courses that can be offered for college credit. The courses must meet the standards and outcomes of a college-level course and the teacher must be qualified to teach at the college level. Partner high schools can also arrange for their students to take courses on Oregon Tech's campuses through High School Transition (HST), or students can demonstrate proficiency at a college level by taking exams in their Project Lead the Way (PLTW) courses. STEM college credits may also be acquired at other accredited colleges and universities that are transferrable to Oregon Tech.
Who is Eligible to Apply?
Any incoming freshman student who achieves 8 or more college credits in a science, technology, engineering, or math course, with at least a grade of B or better, may apply for admission to the Oregon Tech OWLS scholarship. Applicants must have just finished high school and are applying for fall term admission. Students who meet Oregon Tech's admissions standards and can demonstrate successful completion of 8 or more STEM college credits receive a $1,000 OWL scholarship for one year. If the college credit was awarded through Oregon Tech, students can receive up to $1,500.
The OWLS scholarship is open to all incoming freshman students; resident or out-of-state students may apply by filling out the OWLS application. OWLS scholarships may be awarded in addition to other scholarships.
*Please Note:
Transfer students are NOT eligible for the OWL scholarship.
Freshman dual enrollment applicants may apply. If you are a dual applicant, please contact Julie Daniels for Oregon Tech credit requirements and information on pro-rated scholarships.
To apply, student must submit an OWLS scholarship application.
Students must submit the OWLS application by OT's March 1st scholarship deadline.
What are the program deadlines
Students must be fully admitted by Oregon Tech's priority scholarship deadline of March 1st, as well as complete the OWLS Scholarship Application by the same date. Applicants are still eligible for the scholarship even if they have not completed all dual credit course by the OWLS application deadline of March 1st. Students should feel free to work with an Admission Counselor to clarify the admission application process.
Who are Oregon Tech's Partner Schools and Colleges?
Oregon Tech partners with multiple high schools throughout the state to offer dual credit. Oregon Tech also partners with PLTW to offer dual credit coursework and honors PLTW assessment scores to count toward the OWLS scholarship requirements. To find out more information or inquire if your high school partners with Oregon Tech, please email outreach@oit.edu.
For More Information
Director- Educational Partnerships & Outreach
Scholarship Officer/Financial Aid Counselor
Contact Carleen Drago if you are interested in how to become a partner school, or accessing transfer guides and academic agreements.
Contact Julie Daniels for more information about scholarships.
Examples of STEM Classes
Math (College Algebra or above)
Statistics
Environmental Science
CAD
Biology
Chemistry
Manufacturing/Mechanical
Surveying/Geomatics
Physics
Renewable Energy 
Electronics
Electrical Engineering
Environmental Science
General Science
Physical Geography
Geology
Medical Sciences
Medical Terminology
Emergency Medical Technology
Computer programming
Computer Science
Computer Systems/Computer Information Systems
Information Technology
GIS
Management Information Systems
Logic