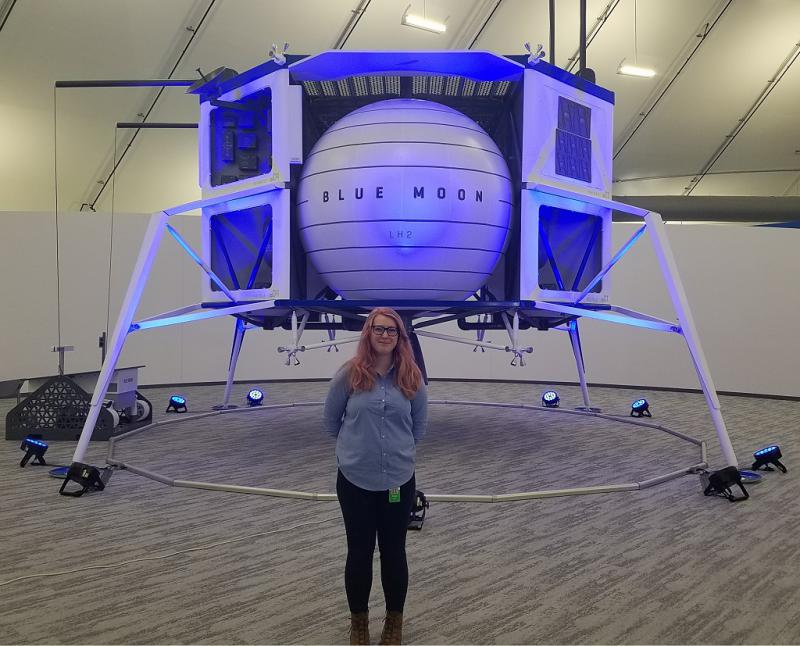 Student, Class of 2022
Program: Applied Mathematics, Software Engineering Technology
Hometown: Arcata, CA
Project Lead, NASA grant-funded space debris detection payload for CubeSats
President, Oregon Tech Rocketry and Aerospace Club (OTRA)
Vice President & Recruitment Officer, Society of Women Engineers (SWE)
Student Ambassador, Oregon Tech CSET Department
Software Developer, Oregon Tech Robosub
NASA Pathways Engineering Trainee
Five-time aerospace intern, NASA and Blue Origin
2020 Grace Hopper Scholar, Anita Borg Institute for Women and Technology
2020 Most Dedicated Student award, Oregon Tech
2020 Undergraduate Team Experience Award, NASA Oregon Space Grant Consortium
2020 Motorola Solutions Foundation Engineering scholarship recipient, Society of Women Engineers
2019 NASA Oregon Space Grant Consortium scholarship recipient
2019, 2020 Oregon Tech Leadership and Diversity scholarship recipient
2018, 2019, 2020, and 2021 Oregon Tech Foundation scholarship recipient
Why did you choose Oregon Tech?
I chose Oregon Tech because I wanted to build things, solve real problems, and get my hands into the guts of things. The hands-on aspect of our curriculum let me spend more time in lab than in lecture and I think those practical skills are what have allowed me to flourish in projects, internships, and interviews.

What do you like best about your major?
The best thing about my majors is that they taught me to see the world differently. I'll never forget how it felt to be in my physics or differential equation classes and to experience the wonder and discovery that the world is complicated but also sometimes ordered and often calculable. For example, when winter came around, my friends and I spent an afternoon trying to prove the 5-second-highway-driving rule in different road conditions after we learned about conservation of momentum and the laws of motion. And my software focus has allowed me to connect seemingly unconnected things to create solutions that benefit my life and others. It truly has felt like putting on glasses and seeing the world for the first time.

What is your favorite memory from Oregon Tech?
I think my favorite memory is having weekly "Compilers Potlucks" with my friends while we were trying to make it out of our compilers course alive. Each week, everyone would bring over a different dish and we'd crowd around my kitchen table with our laptops, notes, and heavy-laden plates. The next 6-9 hours were spent trying to work through the lab assignments together. Even though the class was hard and the dirty plates stacked up, we all weathered it together and came out stronger for it.

What career do you hope to have after you graduate from Oregon Tech?
When I graduate, I hope to land in the world of flight software engineering for space exploration applications. I came to Oregon Tech knowing that aerospace is where I wanted to be. After four NASA internships and one at private space company, Blue Origin, I'm most excited about integration, verification, and testing (IV&T). I think it gives the most holistic view of the spacecraft and that system-level perspective is an awesome place to start as an early career person.
What clubs or activities are you involved with
For most of my academic career at Oregon Tech I've been the president of our rocketry club, Oregon Tech Rocketry and Aerospace (OTRA). One of the biggest highlights was leading a team of multi-disciplinary engineers and writing a grant proposal to NASA to support the development of a CubeSat payload. We were awarded nearly $12,000 and able to create a device that will capture images of space debris during flight. I even got to present my research in Washington DC and meet NASA administrators, Jim Bridenstine and Mike Kincaid. I also served as the vice president and recruitment officer for the Society of Women Engineers. Being a role model for other women in STEM and having the opportunity to do public outreach to inspire the next generation has been invaluable to me and something I hope to continue after I graduate.
What would you say to the donor or donors who support Oregon Tech?
What does their support mean to you?
I think the hardest thing about aerospace and software engineering is often being the only woman in the room and the constant doubt that you don't belong or aren't smart enough. Each time I've received a scholarship, it feels like there is someone out there cheering me on, who knows I can do this - I'm not alone. Those votes of confidence and feelings of support have been instrumental in propelling me forward. So, thank you for believing in me!