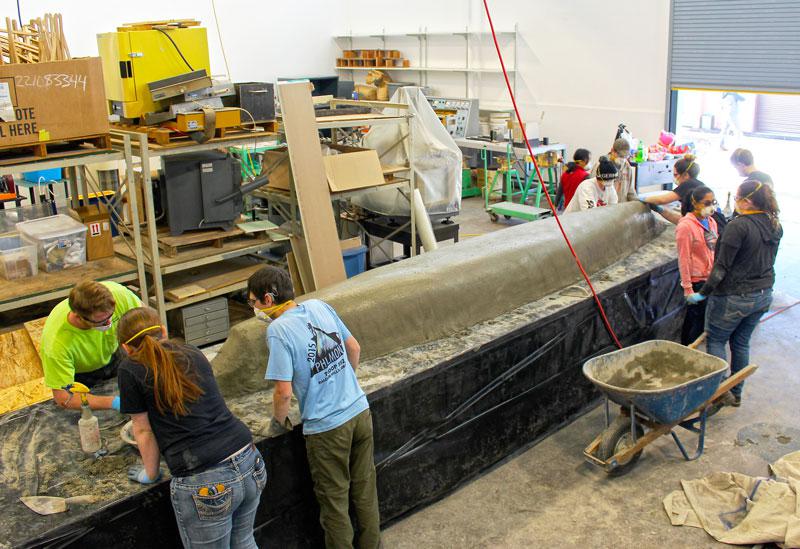 What You'll Learn
A Civil Engineering degree from Oregon Tech will provide you with real world, hands-on education to practice structural, transportation, water resources/environmental, and geotechnical engineering, incorporating professional communication skills and team work.
Whatever your individual interests, you'll learn both the theory and practical application of design and not just in your last few senior classes. Design work starts in the first year and builds in complexity throughout the program as you prepare for immediate employment and eventual licensure as a Professional Engineer. In your fourth year of study, you have the option to target specific careers within the broad field of civil engineering.
Oregon Tech Offers
Internship opportunities through the Civil Engineering Cooperative Program (CECOP), including networking events
Great career networking and unique learning experiences on campus through the American Society of Engineers (ASCE), Associated General Contractors (AGC), and Institute of Transportation Engineers (ITE) student chapters
Civil engineering professors with doctoral degrees and industry experience in their specialties
Small class sizes ensure students understand the concepts being taught; in other words, professors know students by name and work with them one-on-one
State-of-practice course content and rich design and experimental experiences prepare students to contribute on day one of their first job and/or internship
Recently renovated laboratory space devoted to primarily undergraduate education
The first freshman-to-master's Civil Engineering degree program, in the Pacific Northwest, allowing students to move seamlessly into graduate study while completing their bachelor's degree.
Student Chapter Projects
Three greenhouses were built for Klamath Tribal Health and Family Services
A pedestrian bridge was built along the hiking trail to the "O" on the hillside above campus
Engineering students built a solar powered tiny-house from scratch in just 20 weeks.
Build, break, and "bowl" in ASCE-AGC & ITE student chapters
ASCE-AGC
Students compete in the Steel Bridge and Concrete Canoe competitions every year in different states (hosted at Oregon Tech in 2018). You can find more information at the ASCE website.
The Oregon Tech student chapter sponsors several students to attend conferences or events every school year such as: Meet a CE Day, Workshop for Student Chapter Leaders, ASCE Regional Student Conference, Etiquette Dinner, etc.
Students engage in chapter project work with students in and around the Klamath Falls community
Project tours around Oregon
ITE
The Oregon Tech student chapter sponsors several students to attend conferences or events every school year such as: The Traffic Bowl, the Annual Meeting of the Transportation Research Board in Washington D.C., Asphalt Sustainability Conference West, etc.
The chapter has working professionals come and speak and hold workshops
Project tours around Oregon
Oregon Tech's BSCE program is accredited by the Engineering Accreditation Commission of ABET Inc. ABET accreditation is your assurance that our program meets the quality standards established by the engineering profession. Oregon Tech works closely with alumni, employers and the American Society of Civil Engineers (ASCE) to ensure that students graduate with the skills necessary to be successful.
Academic Advising
The departmental faculty advise students. View the list of academic advisors.
If a student is unsure who their assigned academic advisor is, please contact the department chairperson or the Academic Advising office below.
Jobs and Careers in Civil Engineering
A degree in civil engineering will allow you to work for consulting firms, government agencies, heavy construction, municipalities, and more. Oregon Tech graduates may consider a concurrent degree in environmental sciences to expand career opportunities.
A sampling of where our graduates work:
Precision Structural Engineering
Oregon DOT, Washington DOT, Caltrans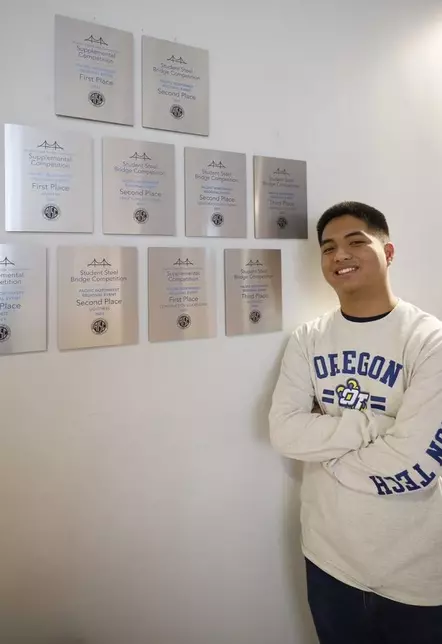 Student, Class of 2024
"I wish that everyone knew the impact of learning in a small campus had made for Oregon Tech students. I find it easier to engage with others and establish one-on-one connections in a small class setting. Because of this, companies have found Oregon Tech graduates to be well-versed in their field of study and surefire candidates to fill positions in need."
Core curriculum includes:
Students will experience general engineering and civil engineering courses in their freshman and sophomore years that explore surveying, geographic information systems and design and application of concrete and asphalt materials
In the first two academic years students start learning and practicing scientific methods and how they are implemented in engineering
During the junior year, students take courses that teach in-depth applications and theory about:
why soils and foundations are so imperative to buildings, bridges, and roads.
how to design effective, efficient and sustainable roadways with innovative practices
why water is important in terms of quantity and quality, especially focusing on the design of hydrologic structures and systems
how to design structures with concrete, steel, masonry, and timber using relevant codes and specifications as well as industry standard software