Be among the leaders using healthcare information to improve interaction between patients and healthcare providers.
As health care costs continue to rise, finding ways to deliver efficient and effective care is more important than ever. Health Informatics professionals help identify systems that aid in this initiative. The field of Health Informatics is unique in that it combines biology, computer science and information science to improve comprehensive care throughout a patient's life. Health Informatics attracts individuals who want to work with people, are analytical, are self-motivated and enjoy problem-solving.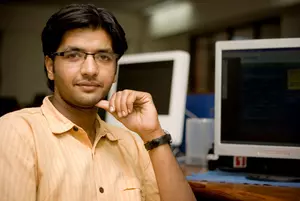 Expert technical training prepares our graduates to design and maintain medical databases, computer networks, and internet or multimedia applications. Graduates of Oregon Tech's program are able to design, implement, and support the computer systems needed in all aspects of health care including information management, medical education and research, disease diagnosis and treatment, patient monitoring and reporting.
People who envision the potential benefits of using computers and want to work at the interface of technology and society will likely find Health Informatics a rewarding profession.
This flexible program is designed to fit the lifestyle of working adults by offering evening and online classes to provide the maximum opportunity for employment and promotion.
What is health informatics?
Health Informatics is the rapidly developing scientific field that utilizes computer technology in the advancement of health care. As an applied science Health Informatics sits at the junction of computer technologies, information science, clinical practice and business management. It is the study of how health data are collected, stored and communicated; how those data are processed into health information suitable for administrative and clinical decision making; and how computer and telecommunications technology can be applied to support these processes.

Oregon Institute of Technology has received specialized accreditation for its business programs through the International Accreditation Council for Business Education (IACBE) located at 11374 Strang Line Road in Lenexa, Kansas, USA.  See additional information regarding the accreditation and public disclosures.
Careers
There is a growing demand for computer professionals in every field, and especially in health care. Oregon Tech graduates possess the strong business and scientific knowledge base, and the computer science and information technology skills, necessary to efficiently integrate computer technology in the health care field.
Graduates with a health informatics degree are most often employed as consultants, managers, systems designers, database administrators, systems analysts and researchers. Salaries for graduates are typically between $50,000 and $60,000 with some positions offering up to $75,000. Opportunities for advancement are plentiful and are either in technical or managerial areas, providing lots of options depending on which professional track a graduate is most interested.
Students can expect to take courses in the areas of:
Database Design
Computer Networks
Systems Analysis
Computer Programming
Healthcare IT
Medical Terminology
Data Analytics
Research Methods
Data Interfact
Clinical Workflows
EHR Implementation
Ethics and Legal Issues
Security
Health Care Systems and Policy
This course will explore the U.S. Health System focusing on its historical development, current configuration and possibly future direction. Included will be the study of health system development, key influencers, accessibility, financers, employers, government and insurers.
Total Quality Health Care
The health care quality management process, contemporary issues and trends involved with quality control, organization structures, policies, human factors and teamwork.
Medical Ethics
Students will become familiar with Kant's moral theory and Utiliarianism and use them to examine the morality of abortion, paternalism, allocation of medical resources, and the right to die, among others.
Business Intelligence
Develop analytic solutions to gain functional understanding of Business Intelligence to solve business problems.
Medical Sociology
Introduction to medical sociology and social-epidemiological research, covering social causes and consequences of health and illness, the practitioner-patient relationship, health behavior, and health care organization.