First Year Courses
---
First year courses are designed to provide a solid foundation for success in your professional paramedic training or in any Allied Health career path, and primarily consist of:
Anatomy and Physiology Series (BIO 231, 232, 233)
EMS coursework including
General Education classes – please see the course map for the various general education courses that are required during this phase of your training.
Second Year Courses (Professional Year)
---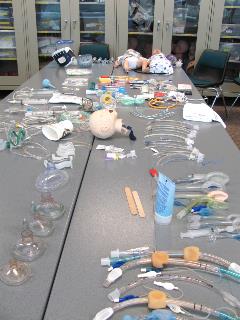 The second year or the professional phase of the program, consists of a full time, 12-month (4 terms) sequence. Please note that students who completed the first year prerequisites at another university, do not have to retake the first year courses with Oregon Tech. The 12 months are comprised into three main segments:
Rigorous, academic didactic course work
Clinical rotations at a variety of departments at OHSU as well as other regional hospitals
12-Week Externship: We have externship contracts with most local agencies as well as many agencies across the country
Professional Year: Fall Term
Students carry a heavy course load of 19 credits. Class meets Monday through Thursday predominately at our Portland-Metro Campus in Wilsonville. Wednesdays are spent at the OHSU campus in Portland.
Professional Year: Winter and Spring Terms
Students carry 18 credits winter term and 15 spring term. There is less didactic coursework and students begin their clinical rotations, which are scheduled throughout the Portland metro area.
Professional Year: Summer Term
12 credits - Students complete a 480 hour externship with a transporting EMS agency. Externship sites are available in a variety of locations that will vary from year to year as we attempt to provide students with learning opportunities at some of the most progressive EMS agencies in the country.
Clinicals and Externships
---
Clinical and field externship sites are continually monitored and evaluated, with Program staff validating the volume, variety, and quality of experiences. OHSU is a large clinical and research facility, with various resources available to paramedic students. As a teaching hospital, they are affiliated with the Veterans Affairs Medical Center, Doernbecher Children's Hospital, and other area medical centers.
The OHSU / Oregon Tech Program utilizes a vast network of EMS and emergency medicine physicians to ensure that the highest quality of education is being delivered. Routinely, some materials delivered in class are cutting edge, not yet published in Paramedic textbooks. The majority of our lecturers are clinical specialists in their areas, and include many practicing paramedics, emergency nurses, attending physicians, residents, and fellows.
The Program employs a Medical Director to serve as our medical conscious. He reviews all exams, frequently interacts with students, and participates in quality assurance / improvement activities. His longstanding reputation in Emergency Medicine, and involvement in local EMS operations contribute to the overall strength of the program.
An extensive background check and drug test are required for many clinical programs within the EMS department. Adverse findings may affect admittance or continued enrollment in the program and/or impact eligibility for future employment in the field of emergency medical services. Also, several immunizations, as required by the CDC and the OHA are also required to complete many of the EMS programs and courses. Please contact the program for more details.