Portland, Ore. – A team of Oregon Institute of Technology, "Oregon Tech," students won big this weekend at the InventOR Collegiate Challenge. The grand prize winners are The Reclaimers, a team of Oregon Tech students made up of Renewable Energy Engineering and Electrical Engineering senior Annika Andersen of Baker City, Oregon, and recent graduates of Mechanical Engineering, Ashlei Morgan of Meridian, Idaho, and Jessica Arrington of Paisley, Oregon.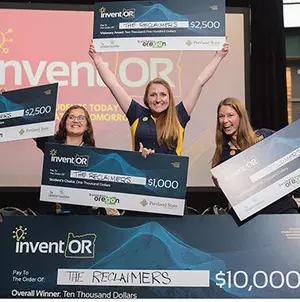 The InventOR Collegiate Challenge inspires the next generation of inventors and entrepreneurs across Oregon, convening winners from preliminary campus competitions to compete for $25,000 in prizes. Projects showcase students' solutions to pressing community needs in Oregon's urban and rural regions — and beyond.
With an eye toward the plastics that are causing big headaches for recycling efforts (China stopped buying U.S. waste plastics a while ago and methods of effective plastic recycling are few and far between), The Reclaimers are working on a machine that will turn waste plastic back into crude oil using the pyrolysis process. The team began their journey in 2016 after watching a YouTube video where a man was showing his version of a pyrolysis system as STEM outreach for young children. "We were inspired to create a system of our own that could take plastic and turn it into an oil as our senior project," said Arrington. "With continuing research, we realized that this type of full cycle recycling must happen if we want to make progress toward sustainable living."
"Our project is different from other plastic product solutions because we address the plastic end-of-life cycle head on," said Andersen. "While many other companies work on sourcing plastic from renewable or biodegradable sources, our process can be used retroactively on plastics that already exist and on plastics that consumers may use in the future."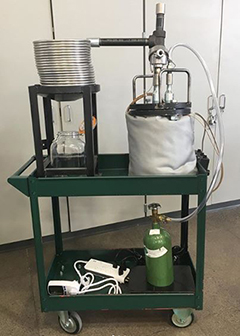 The team's path to sustainable living first paid off at Oregon Tech's annual Catalyze Klamath Falls Challenge in May, taking home $9,000 and the chance to compete on the statewide stage at InventOR. The team received first place at the competition, with additional awards for Audience Choice and an InventOR award. At the InventOR competition held June 28, The Reclaimers competed against 21 teams from higher education institutions across Oregon, receiving the grand prize award of $10,000 to build their prototype machine to convert plastic waste into crude oil. Additionally, the team received $2,500 in startup legal fees from Stoel Rives, $1,000 for Student Choice Award, $2,500 for Best Pitch, $2,500 Visionary Award and $5,000 for Best Prototype.
"We are excited to invest this funding into our business concept," Morgan said. "Implementing a business such as this into our community would mean our environment being safeguarded and our economy bolstered."
As overall winners of the competition, The Reclaimers also earned a slot at the Bend Venture Conference in October.
Now that the competition has ended, The Reclaimers say they will begin networking and refining their design for an industrial-scale plastic pyrolysis system.
To watch their journey, visit the team's Instagram page: www.instagram.com/reclaimrecycling/
The above press release was originally released on July 1, 2019.