Alumni Spotlight - September 2022
Hanna Wolf '22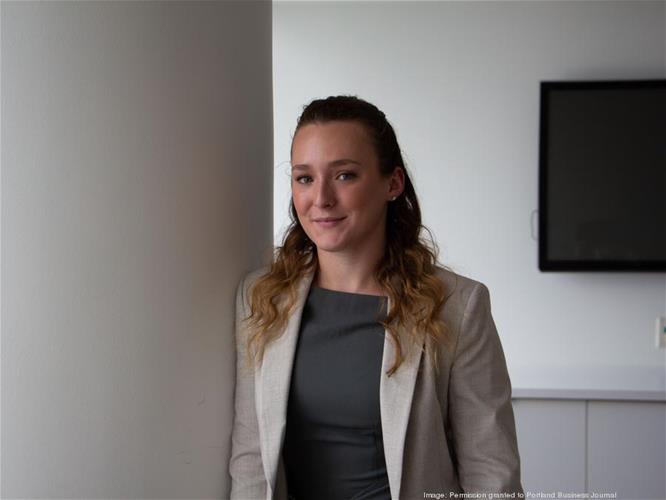 As the recipient of the 2021 Graduate Student Achievement Award, Hanna Wolf '22 has been making Oregon Tech proud for years and we can't wait to watch her continue making a difference in the world. Born in Minnesota, Hanna lived in South Carolina and Texas before ending up in Bend, Oregon, where she attended high school. Since childhood, Hanna had always been interested in wildlife and the environment and yearned to pursue a career as an environmental scientist. Hanna discovered that Oregon Tech had the degree programs she was interested in, with the added bonus that being in the state meant she could get a first-class education at an affordable cost. Oregon Tech's dual renewable energy engineering program and environmental sciences programs enticed her to explore these fields as she found a way to marry her interests in math and physics with her desire to help the environment.
Hanna attended Oregon Tech for five years, earning both her bachelor's and master's degrees in Renewable Energy Engineering and a bachelor's in Environmental Science. While at school, Hanna was involved in many activities. She served as the corresponding secretary and later as the president of Tau Beta Pi, the engineering honors society whose membership is by invitation only. Tau Beta Pi allowed Hanna to participate in meaningful volunteer work such as highway cleanup, the cleanup of a local park, a book exchange, and of course, engineering activities such as organizing Engineers Week. Hanna met her fiancé, mechanical engineering alumnus Mario Segura '22, in the organization. In addition to Tau Beta Pi, Hanna worked on several projects for the university as a student, where she got paid to do research. For one of these projects, Hanna traveled to Chicago, Illinois to present her findings at an IEEE (Institute of Electrical and Electronics Engineers) conference.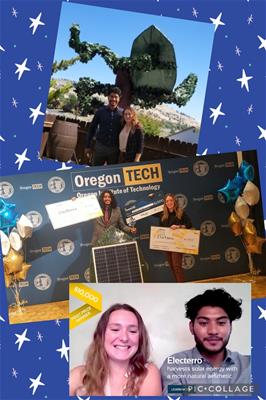 In preparation for her Master's thesis, Hanna decided to submit a project proposal for the Catalyze Klamath competition in Klamath Falls. Her fiancé, Mario, became her partner in that endeavor. Hanna and Mario, under the team name Electerro, developed a solar and wind energy tree. This hybrid system had leaf-shaped photovoltaic panels and a vertical low-wind speed axis turbine at the top. The unique branching structures gave it the appearance of a tree. It also had a 400-watt battery system at the base of the tree. The Electerro prototype placed third in Catalyze Klamath, which was disappointing to them at the time, but was enough to earn prize money and a spot in the statewide innovation competition for entrepreneurs, Invent Oregon. Two months later, the pair won first place at Invent Oregon and the People's Choice award, beating out all projects from all universities in the state! The $10,000 prize also came with an invitation to attend the Bend Venture Conference in 2021, the most significant business venture conference in the Pacific Northwest. The entire experience taught Hanna and Mario so much about what they could achieve to benefit the environment. The Electerro project is currently on pause while the pair focus on their new jobs, gaining industry experience fresh out of college. They are working on a design patent for their invention and will revisit their invention in a couple of years.
During her final year on campus, Hanna was offered a scholarship by a company called HDR. HDR attended Oregon Tech's fall career fair, met Hanna, and awarded her the Power Delivery Award which included a $10,000 scholarship for her final year of college and a summer internship in Denver, Colorado, focusing on substation design. She stayed on with HDR during the school year while she finished her master's degree, working on battery energy system design and key photovoltaic design. This allowed her to begin the process of becoming a renewable design EIT (Engineer-in-Training) for the company. She successfully passed her Fundamentals of Engineering exam in electrical engineering and is officially a renewable design EIT for HDR in their Irvine, CA offices. Her work entails being an electrical designer for packages with battery systems, photovoltaics, wind, pumped hydro, and electric vehicles; anything in the renewable space. Not only is Hanna excited about the incredible wealth of knowledge from her mentors at HDR, but they are also impressed with her. Hanna was invited to speak at a company conference in front of 800 people about her experiences and what she sees as the future of renewable energy.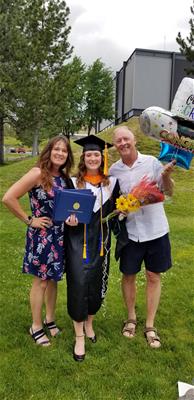 Hanna rides her electric bike to work each day in Southern California and is looking forward to marrying her classmate and Electerro partner, Mario, soon. She is also working towards her PE (Professional Engineer) license by the end of 2023. Her biggest goal is to continue bringing renewable energy systems to ecosystems where it is having beneficial impact, or at least a symbiotic impact with whatever is going on around it. Hanna has a great piece of advice for Oregon Tech students. She says, "Take advantage of all the hands-on opportunities that surround you." When it comes to doing projects for the university, she further explains, "Sometimes you get paid, sometimes you get really good experience, sometimes you get both." We will be watching both Hanna and Mario's careers as they continue to shine in the real world, just as they did while students at Oregon Tech. Go Owls!