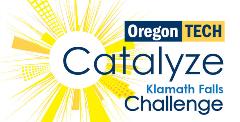 Klamath Falls, OR. –
The Catalyze Klamath Falls Challenge announced by Oregon Tech in October brought 5 competitors that just wrapped up their first competitive event, the annual SharkTech Venture Pitch Summit, held March 4-5. The challenge encourages students to bring
Innovation Close to Home
with a prize pool of $9,000, and begin entrepreneurial efforts in Klamath Falls, such as starting a business.
Participants are Oregon Tech students or recent graduates who reside in the Klamath Falls area. Any major or field of study was encouraged to participate. Teams will utilize previous knowledge, explore the unknown, and seek advice from professionals and teachers to develop their entrepreneurial business plans.
The 5 teams registered are as follows:
Critter: seeks to produce a robotic conversion kit and automation software for agricultural and land management equipment
o Nathaniel Gardner
o Christopher Dean
o Erik Andersen
o David Houston
o Nathan Brumbaugh
o Patrick Miki
o Lydia Doza

Adralis Systems: biometric network security system utilizing an EEG to produce a completely unique and secure passcode for use in multiple aspects of digital data transfer
o Erik Flores
o Royce Taft
o Kyle Hanson
o Adam Langenstein
o Jaclyn Smith

SSTIM Manufacturing: using CNC lathe to create titanium medical parts, making the ingestion of a new medicine easier than ever
o Shelbey Coulter
o Scott Hubbard

Gro-volution: sustainable agriculture production system ("In the box farming")
o Eric Wilson
o Derek Pallett
o Nathan Leung

Solar Search and Rescue Drone: Drone that works search patterns and grids, equipped with camera to search for victims of natural disasters like landslides or avalanches or just lost hikers
o Michael Peterson
The prize money is compiled through generous donations from Senator Doug Whitsett and Representative Gail Whitsett, who provided
$5,000
 and the remaining $4,000 was recently supplied by Klamath County through funds specifically allocated towards economic development.
Representatives from Oregon Tech presented Catalyze to Klamath County Commissioners last month and the board unanimously supported that it was in the county's best interest to encourage student business development in Klamath County. Klamath County's support of the Challenge is critical towards the ability for winners to start businesses in Klamath Falls to ignite rural economic development in the area. 
"The Board is pleased to partner with Oregon Tech on this exciting project!" shared Klamath County Commissioner Kelley Minty Morris. "We feel strongly that the future of Klamath County depends on bright Oregon Tech students deciding to call Klamath County home. We hope this contest harnesses the creativity of this next generation, and we hope that by supporting it, students will feel as though Klamath County is invested in their success."
The county will also consider providing additional prize money next year to support growth of the Challenge. The final judged concept presentations will occur the 8th week of Spring term. For more information and competition guidelines, contact Dean Charlie Jones,
Charlie.jones@oit.edu
 or go to
www.oit.edu/catalyze
.