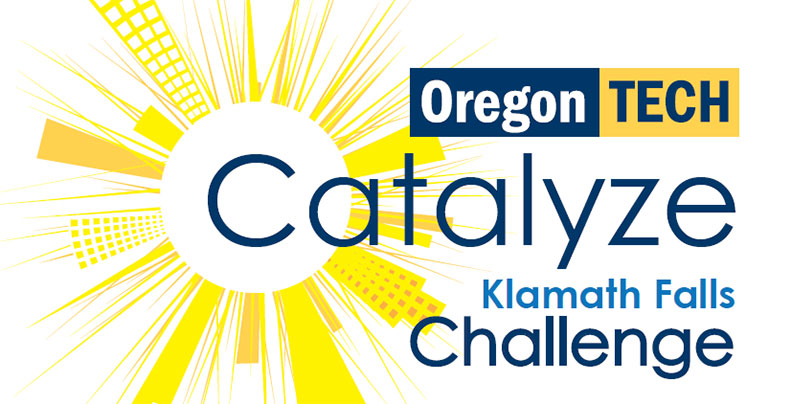 Oregon Tech's Catalyze Klamath Falls Challenge has been a huge success for student competitors and the Klamath community. Over the past two years, 10 student/alumni teams have competed for over $20,000 in prize money that was generously donated by Representative Whitsett, Senator Whitsett, Klamath County, City of Klamath Falls, KCEDA, Avista, the Gaucho Collective, the Herald & News, Klamath IDEA, Oregon BEST, and Black Canyon Woodworks.
The winning team in 2015, Gro-volution, with members Eric Wilson, Derek Pallett, Nathan Leung, is moving ahead to build their business, a sustainable agriculture production system ("In the box farming"), with the help of their $5,000 first place prize. The winning team in 2016, GO Possibilities, with members Matthew Stansbury, Eric Tipler, Ben Fawver, and Tate Orlik Hill, is working to produce graphene oxide -- a highly conductive fluid that is made of carbon, is stronger than steel but lighter than paper, is flexible and transparent -- at lower cost and using less toxic chemicals than currently available products; and producing 3-D printers that can print out sheets of the graphene that can be used for energy conduction and storage in numerous products, such as cell phones and electronics.
The 2017 Catalyze Klamath Falls Challenge Kick-off Meeting will be on Wednesday, November 9, 2016 from 5 – 7pm at the Gaucho Collective on Main Street in Klamath Falls. Catalyze 2017 will be similar in format to last year, with teams competing for prizes, receiving coaching and technical assistance, as well as participating in a Shark Tech pitch session and development of a business plan to commercialize their invention. The winning teams will receive over $15,000 in cash and in-kind business support to enhance their ability to start and grow successful companies in the region.
Oregon Tech is encouraging all student project teams in both the Colleges of ETM and HAS to consider competing in the Challenge, and to form multi-disciplinary teams of engineers or healthcare majors with management and entrepreneurship students.
The Oregon Tech community is rich in talent and the Klamath community is rich in its desire and support to grow and sustain new invention-based companies in the region.
Preliminary Schedule of Events
November 9, 2016 from 5 – 7 pm: Catalyze Klamath Challenge III Kick-Off Meeting. This is a hosted event at the Gaucho Collective for students, faculty, and community members to learn about the contest and begin to form teams. Gaucho Collective, 1038 Main St., Klamath Falls 97601.
Dec 5, 2016 - Jan 13, 2017: Catalyze Team Registration Window– Final Deadline is January 13, 2017.
January 18, 2017: Catalyze Team Meet and Greet. This is a hosted event for all teams to meet with mentor network and learn about external resources that are available to teams; Location TBD
March 1, 2017: Annual SharkTech Venture Pitch Contest –Tentative date
April 21, 2017: Final Report Due
May 18, 2017: Catalyze Klamath Falls Challenge Contest at Oregon Tech College Union. Teams will compete in front of a panel of judges for the PRIZES! We will post a list of judges, prizes and final details when we get closer to the date. Refreshments will be served for all team members.
For more information, go to www.oit.edu/catalyze or contact Lita Colligan, Associate Vice President for Strategic Partnerships, at lita.colligan@oit.edu or Interim Dean Hallie Neupert, at hallie.neupert@oit.edu.