Innovative, highly technical and eager student entrepreneurs at the Oregon Institute of Technology (Oregon Tech) came together on Thursday to compete for seed money to turn their product ideas and prototypes into real businesses. The winning project, called Helios Hive, is an invention by Renewable Energy Engineering student Mathias Dean. The project is a solar bee hive system which allows for the temperature regulation within a hive or set of hives, in order to assist with the elimination of a parasite currently leading to mass losses in bee populations.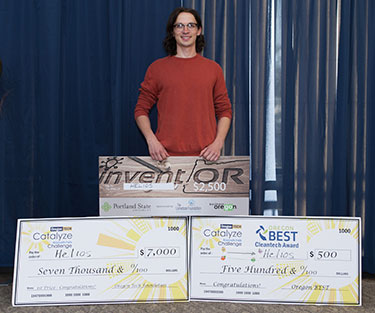 This is the third annual Catalyze Challenge, which began with the concept of keeping Oregon Tech graduates in Klamath Falls to start entrepreneurial efforts after graduation, and help spur economic growth and stability in the region. Up from $9,000 in 2015, this year the competition had a total prize pool of $20,000, including donated space at the Gaucho Collective. With the theme of 'Innovation Close to Home,' six strong teams competed in the final round of judging on Thursday, May 18. Five volunteer judges, all from Oregon Tech's business, community and university connections, watched the presentations, asked many probing questions, and decided on the top winner. The distinguished judges determined which two runners up would receive $5,000 and $2,000, respectively for second and third places, and which winning plan and presentation would receive $7,000 to invest in start-up costs and ignite project development. Additionally, two teams were awarded $2,500 and presented the opportunity for the teams to continue on to the InventOR finals.
Projects presented at the Challenge included:
Grey Tech 3D Scanner: Eric Pahl- Inventor, Nick Mitchell-Hooge and Josh Whitley
Helios Hive: Mathias Dean- Inventor
Oregon Tech Micro-Malter: Jennifer Berdyugin, Kelsey Sampson, Reece Ishihara, Miles Taylor, Jacob Thompson, Jimmy Finch, Keith Omogrosso and Eric Pahl
Minimize Development, LLC: Joslyn Lindsey, Zanna Vetter, Josh Allan and Kevin Smith
MOG Metalworks and Design: K.C. Crawford
Wind Turbine: Colin Yoshinaga, Grant Gholston, Brandon Walker and Brooke Molloy
The three winning projects were:
Helios Hive, 1st Place: $7,000 prize for a Solar Bee Hive which allows for the temperature regulation within a hive or set of hives, in order to assist with the elimination of the varroa mite. This device uses the concept that the varroa mite cannot survive in temperatures between 104 Fahrenheit to 116.6 Fahrenheit while the hive and bees remained unharmed. Using direct solar radiation to heat the hive, the Solar Bee Hive uses a solar panel to convert solar energy into electricity in order to power heating elements placed directly into the hive. Inventor Mathias Dean is a Renewable Energy Engineering student graduating this year.
MOG Metalworks and Design, 2nd Place: $5,000 prize to expand the current capabilities of an existing business that designs and fabricates top-of-the-line products, from roll cages to signs. Specializing in CNC plasma cutting, welding, and fabrication, the money will allow MOG Metalworks to increase efficiency and larger production volumes due to the larger operating window and no need to resize raw materials. K.C. Crawford is a Mechanical Engineering student.
Micro-Malter, 3rd Place: $2,000 prize for an automated, transportable machine that malts barley or other grain products, which can then be used to make other products, such as beer. The machine is small enough to transport place to place and has the ability to run off of renewable energy, whether it is solar thermal energy or geothermal energy. Team members include Jennifer Berdyugin (Renewable Energy), Kelsey Sampson (Renewable Energy), Reece Ishihara (Mechanical Engineering), Miles Taylor (Mechanical Engineering), Jacob Thompson (Mechanical Engineering), Jimmy Finch (Renewable Energy), Keith Omogrosso (Electrical Engineering), and Eric Pahl (Mechanical Engineering).
Throughout the event, finalists presented and defended their business plans to the panel of judges which included: John Lamy, Oregon Manufacturing Extension Partnership, Katie Klos, Oregon BEST, Janet Soto Rodriguez, Business Oregon, Rob Jellesed, Klamath Basin Brewing, and Andrew Stork, Klamath Economic Development Association. 
Also in attendance were Juan Barraza from PSU Business Incubator and Rachel Brunette from the Lemelson Foundation, who collaborated with Business Oregon on the InventOR Program. They presented Helios Hive and Micro-Malter with InventOR awards of $2,500 each to build prototypes and present them at the InventOR competition in Portland in October. Oregon BEST presented an additional prize of $500 to Helios Hive for a Clean Tech award, and MOG Metalworks was winner of the Student Choice Award.
Kelley Minty Morris, Klamath County Commissioner and Oregon Tech Board of Trustees member, was the Master of Ceremonies and effectively led the teams and judges through the fast-paced, timed presentations.
The 2016-17 Catalyze Klamath Falls Challenge was sponsored by the Deans of Oregon Tech's College of Engineering, Technology, and Management, the College of Health, Arts, and Sciences, and the Office of Strategic Partnerships. The event is made possible through generous sponsorship and donations from AVISTA, Business Oregon, Gaucho Collective, City of Klamath Falls, Oregon BEST, Klamath County, Klamath County Economic Development Association (KCEDA), and the Wendt Family Foundation.
Members of the Oregon Tech Innovation and Entrepreneurship Committee include: Hallie Neupert, Chair, Lita Colligan, Dan Peterson, SophiaLyn Nathenson, Tara Guthrie, Mason Terry, Don Lee, Franny Howes, Aja BettencourtMcCarthy, Jesse Chaney, Mark Ahalt, and Barbara Neal.
For more information regarding the Catalyze Klamath Falls Challenge, visit www.oit.edu/catalyze.
###