What You'll Learn
Operations Management provides students with a strong managerial and applied problem-solving background. Industry experienced instructors work closely in small, focused classes that prepare students to address issues related to productivity, supply chain management, quality assurance, and operations logistics.
Operations Managers successfully blend the art of management with applied science through creativity, people skills, rational analysis and application of technology. Particular emphasis is directed toward development of skills in problem solving, project management, communication, and managing effectively in team-based work environments.
Faculty are former industry managers, executives, administrators, and CPAs who stay connected with workforce demands to give our students a competitive advantage. They are also dedicated teachers with impressive academic credentials.

Oregon Institute of Technology has received specialized accreditation for its business programs through the International Accreditation Council for Business Education (IACBE) located at 11374 Strang Line Road in Lenexa, Kansas, USA.  See additional information regarding the accreditation and public disclosures.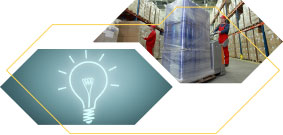 The Bachelor of Science in Operations Management degree program prepares students for leadership positions within a wide variety of product and service industries. Our graduates develop a mastery of concepts, tools, and skills in management sciences and specialties tailored to the industries of interest to the student upon graduation. An operations manager may be involved in overall strategy, plant layout and design, equipment selection, production scheduling, process improvement, and supply chain management.
Students attaining the Six Sigma green belt certification will be well positioned to work for companies who deploy Six Sigma and LEAN.
Courses
Oregon Tech's Operations Management curriculum develops the mastery of concepts, tools, and skills in management sciences and specialties.
Students will take

foundational courses

in management such as; accounting, economics and finance to ensure graduates are financially literate and marketing and management to prepare students for leadership and organizational roles
Courses in business law, ethics and globalization contribute to our graduates being well versed in technical and communication skills
Program courses and the senior project teach students how to manage projects, analyze and solve business problems in operational areas of logistics, materials, quality, and leadership using quantitative and qualitative methods.
This degree program prepares students for graduate school programs such as the MBA or the MIM.