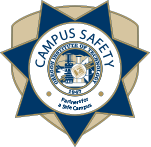 Campus Patrols
Campus Safety officers routinely patrol the campus, respond to requests and assist faculty, staff, and students as needed. Officers usually respond to calls within two to five minutes. Campus Safety patrol officers are available 24/7 for any concern, including disability issues that need immediate resolution or assistance. A "Night Ride" assistance program is also available 24/7 for any person that needs an escort from one area to another on campus.
Crime Prevention and Education
Campus Safety, staff, faculty and students continually work together on personal safety and preparedness to assist others in time of need. This strategy works. Each individual is responsible for taking basic precautions such as walking in pairs at night or high-risk periods, locking office and car doors and securing personal valuables when unattended. Campus Safety is always available to meet with individuals, groups and clubs to discuss safety, crime-prevention methods and related issues.
Campus Safety actively supports crime prevention through a number of activities. Uniformed officers provide educational talks, workshops and information exchanges throughout the academic year.
Campus Safety personnel provide the following crime-prevention services:
Daily incident and crime reports
Crime information and data to local police agencies
Resident Advisor support
Orientation programming for new students
When campus crimes occur, Campus Safety will notify the campus community to educate and inform members as a crime deterrent. If you have information or questions, contact Campus Safety at 541.885.1111.
Reporting a Crime
In the event of a crime or emergency, contact Campus Safety at 541.885.0911. This number will reach Campus Safety. Dialing 911 will reach the Klamath County Dispatcher. One or more agencies will respond immediately.