Program Information
The Base to Bachelor's fast track at Oregon Tech is a new program designed to promote college access, affordability, and bachelor's degree completion for airmen around the world. Students who enroll at Klamath Community College (KCC) and pursue a College of the Air Force degree are eligible to transfer to Oregon Tech to earn a Bachelor of Applied Science in Technology and Management.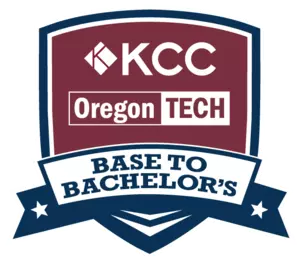 All CCAF and bachelor's degree classes for this program can be accessed online or on-campus in Klamath Falls, or Oregon Tech's Portland-Metro campus.

To get started, interested students in the CCAF program at KCC, can contact Tracy F. Heap, director of KCC Veterans Services at heap@klamathcc.edu or 541-880-2214. Or contact John Appolonio, the KCC Veterans Administration school certifying official, at appolonio@klamathcc.edu or 541-880-2389.
For information about transfer and the Bachelor of Applied Science in Technology and Management at Oregon Tech, contact Educational Partnerships and Outreach at: outreach@oit.edu or 541.885.1844.
Base to Bachelor's Benefits
Made for Airmen
Maximize military credit transfer
Minimize out-of-pocket cost
Automatic and free transcript submission
No fees and low-cost/free books for KCC classes
Veteran-friendly, personal advising, and benefits assistance
Take "optimum" Gen Ed courses that count for all three degrees (CCAF, AGS, BAS)
How can I take advantage of this program?
Step 1
Enroll at KCC, transfer or complete CCAF general education courses and receive a CCAF degree.
Step 2
Complete lower division Klamath Community College courses and receive an Associate of general studies.
Step 3
Get in contact with Oregon Tech and apply for admission as a degree-seeking student.
Step 4
Complete Oregon Tech junior and senior year courses and receive a Bachelor of Applied Science in Technology & Management.
What are the admission requirements?
Oregon Tech's transfer admission criteria should be reviewed prior to applying. Oregon Tech Admission Counselors are available to speak with students regarding the Base to Bachelor's program. Oregon Tech encourages early advising for all students. Please contact outreach@oit.edu to get started.
How can I finance my education?
Costs for the classes are tuition and fees. Students who are admitted to Oregon Tech's Bachelor's of Applied Technology and Management should work with their advisor to appropriately identify CCAF tuition reimbursement or veteran services.