Our Mission
---
The committee serves as the coordinating body for the university's activities relating to sustainability. We address ways to imbue the theme of sustainability throughout Oregon Tech in meaningful and visible ways.
Earth Day 2021
This year's focus is on restoration of the planet to prevent the disasters of climate change and environmental destruction.
Embedded Computer Systems Can Help Solve the Planet's Problems:
A Beehive Monitor Data Delivery device developed as a student-team capstone project.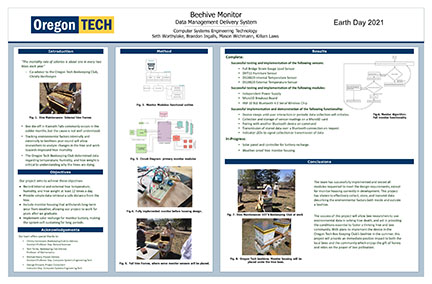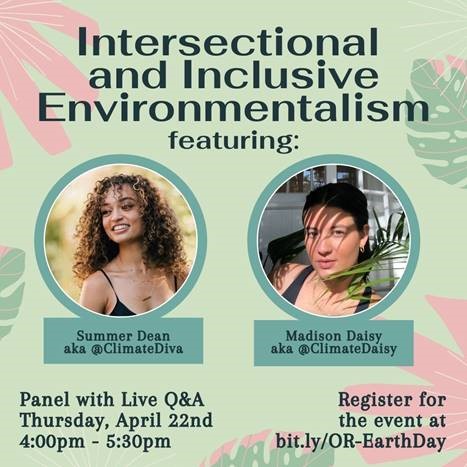 Intersectional and Inclusive Environmentalism | Earth Day Conversation
April 22, 2021, 4 to 5:30 p.m. | Online Zoom Link
Oregon Tech joins colleges statewide for an exciting afternoon with climate advocates Summer Dawn (@ClimateDiva) and Madison Daisy (@ClimateDaisy) as they discuss all-things intersectional climate advocacy and action as well as how college students can rise up to the challenge of changing our world for the better. The event includes an hour-long discussion with the two panelists and 30 minutes for a live Q&A. The conversation is free and open to all. Zoom link to follow. Oregon Tech
Contact: Lloyd Parratt, Chair, Sustainability Committee
Did you know that REACH Inc. handles all of the mixed recycling on the Oregon Tech Klamath Falls campus?
REACH describes itself as a rehabilitation facility whose primary goal is to provide support and encouragement toward the achievement of self-fulfillment by providing job skills and training for people with disabilities.
Look for these posters offering guidance at recycling centers located across campus.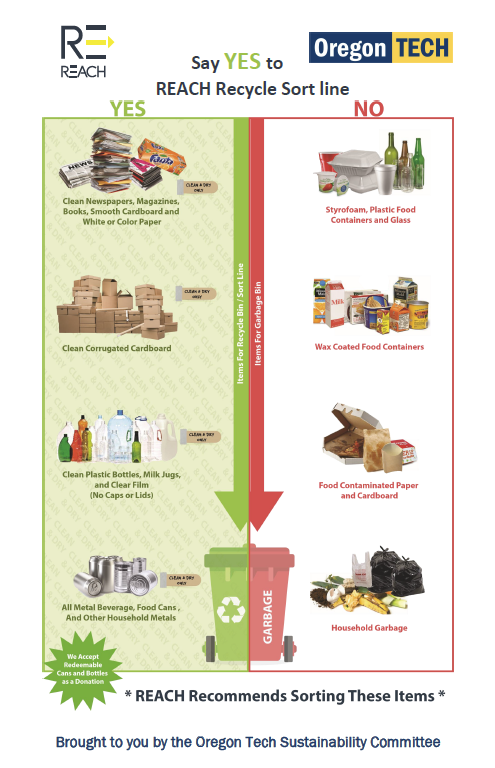 Climate Neutral by 2050
Oregon Tech will be climate neutral by the year 2050. This will be accomplished through a combination of energy conservation, improved building design, the purchase of carbon offsets, and the construction of twin "large" and "small" geothermal power plants. Other initiatives include:
Academic Programs
Training graduates in sustainable technology, design, and practices:
Manufacturing and Mechanical Engineering Technology (life cycle analysis and lean manufacturing)
Renewable Energy Engineering (harnessing energy from renewable resources)
Civil Engineering (environmental design and LEED building design)
Environmental Sciences (watershed sciences, geographic information systems, and sustainable technologies emphasis areas)
Native Plant Gardens and Xeriscaping
These gardens feature indigenous plant life and xeriscaped landscaping techniques (requiring little or no irrigation). They are located on the Oregon Tech campus, were designed by Civil Engineering students, and are maintained by the Sustainability Committee. The garden areas serve as a test plot for the adaptability and robustness of native plant species and collectively serve as a teaching garden for the community. Oregon Tech also has a small on-campus wetland.
Encouraging Alternative Transportation
Oregon Tech encourages alternative transportation use for community members. There are bus pass discounts for students, faculty and staff to encourage the use of mass transports. There is also an electric car plug-in station conveniently located in one of the parking lots. The campus gets involved with the annual Bike-To-Work day in May.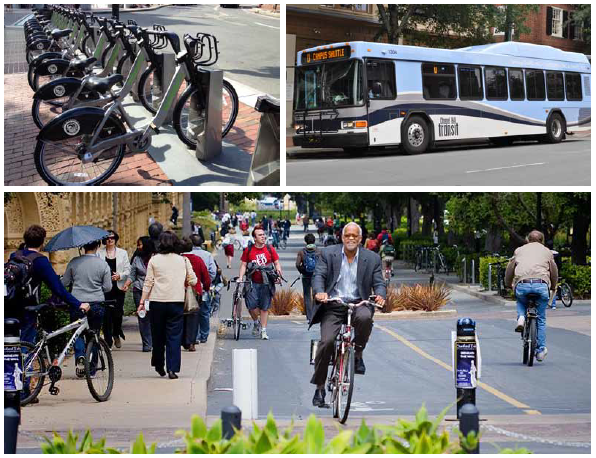 Learn more about innovative approaches influencing transportation policy on college campuses, with examples from around the nation.
Action Groups
Groups directly involved in community sustainability efforts include:
The Sustainability Committee which is made up of faculty, students, staff, and community members
The Student Sustainability Club
Engineers without Borders
The Student Sustainability Internship Program, active at both campus locations
Simpler and more sustainable lifestyle enveloping a smaller-than-conventional carbon footprint.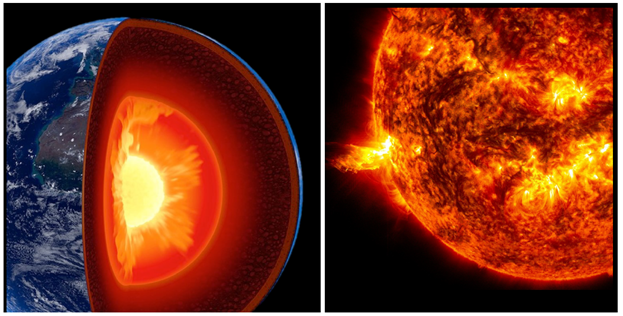 Live Sustainably
---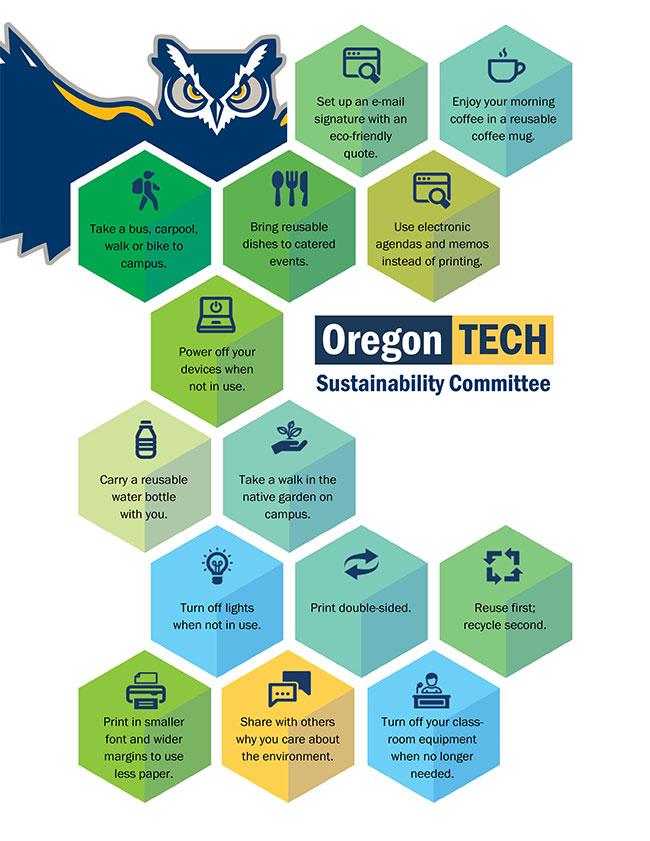 Additional Resources
Oregon Tech houses the Oregon Renewable Energy Center which promotes energy conservation and renewable energy use through applied research and education programs.


Klamath Sustainable Communities is a group of people working for a healthy future in the Klamath Basin through education and community activities.
Collection of digital materials on Geo-heat
The Oregon Tech Tiny House Movement initiative continues to take shape. This is a student-led cross disciplinary effort meant to bring awareness to sustainable lifestyles by downsizing living spaces to several hundred square feet, as opposed to the typical home footprint in the U.S. of around 2,500 square feet.