Oregon Tech is committed to sustaining an environment free from sex-based discrimination and harassment. As part of our ongoing commitment to the Oregon Tech Community's well-being, we provide training and education about Oregon Tech's policies, applicable federal and state laws, including, but not limited to Title IX of the Education Amendments of 1972, as well as information about the rights, responsibilities, and resources applicable to each member of our learning and working community.
Mandatory Training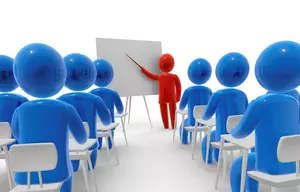 Because Title IX awareness is crucial to the health and wellness of the Oregon Tech Community overall, annual training on Title IX and related laws is required for all Oregon Tech students, employees, volunteers at all Oregon Tech campus locations. Our Board of Trustees also attend annual Title IX training. Members of the Title IX Office, including the Title IX Coordinator, Investigator, and Deputy Title IX Coordinators receive additional training, as do Hearing Officers and Advisors.  
Request Training
If your department, student club, faculty member, or group is interested in Title IX or non-discrimination training, please contact the Title IX Office. We are happy to design a training module, participate in a workshop, or present a seminar to fit your needs and interests.
Simply email us at TitleIX@oit.edu and write "Training Request" in the subject line. Let us know what you have in mind for training (content, length, burning questions, hypothetical scenarios, etc.) and we will get back to you to make arrangements.
Past Training Materials
Oregon Tech's primary concern is to ensure that all students and employees are provided a safe and respectful learning and working environment. As an update to this commitment and to further transparency and accessibility to training materials, effective August 14, 2020, all Title IX, sex discrimination, and sexual misconduct trainings will be listed and linked on this page.
This page will be frequently updated. If you believe a training topic may be missing, please contact the Title IX Office.