UPDATE:
The following courses, certificate programs, and degree completion courses are currently not available until further notice:
MIT 341 Magnetic Resonance Imaging
MIT 342 Magnetic Resonance Imaging II
MIT 365 - Mag. Resonance Imaging Review
Radiologic Science and Nuclear Medicine degree completion programs must waive any and all MRI courses
What You'll Learn
Medical Imaging Techniques
Radiation Physics
Radiographic Positioning
Patient Care
Contrast Media and Fluoroscopy
Computed Tomography
Magnetic Resonance Imaging
Interventional Radiography
Mammography
Radiologic Science Program Information
Radiologic Science prepares the future radiologic technologist with a wide range of skills in general radiography along with mobile and surgical radiography, and fluoroscopy.
The program also provides an opportunity for students to receive didactic certifications in advanced imaging modalities such as Computed Radiography (CT), Mammography (M), and Interventional Radiography (IR).
Obtaining an Oregon Tech Radiologic Science degree will give you extensive training in communication skills and business practices to be eligible to take the radiography examination, administered by the American Registry of Radiologic Technologists (ARRT). Those who gain registration may pursue post primary certifications in areas such as Interventional Radiography, Computed Tomography, Magnetic Resonance Imaging, and Mammography.
Oregon Tech Offers
Full time clinical practice during senior year.

On-campus lab

is extensive and utilizes

energized x-ray equipment.

Faculty members are directly involved in the

hands-on imaging/learning opportunities

during the on-campus courses

Simulation labs

in each of the post-primary modalities

Clinical observations

at local healthcare facilities

Low student-to-faculty ratio

resulting in high engagement and learning opportunities
Certifications offered in post-primary specialties such as

MRI, mammography, CT, and interventional radiography.
Outcomes
Oregon Tech gives students appropriate experience, supervision, education and industry experience to be competitive in a field with a high demand for bachelor's degree prepared medical imaging professionals. Oregon Tech graduates have excellent opportunities for employment in hospitals, clinics, private practice and state and federal agencies. By 2026 this field is expected to employ 13% more people than currently in the workforce, which is faster than average growth. (bls.gov, August 2018).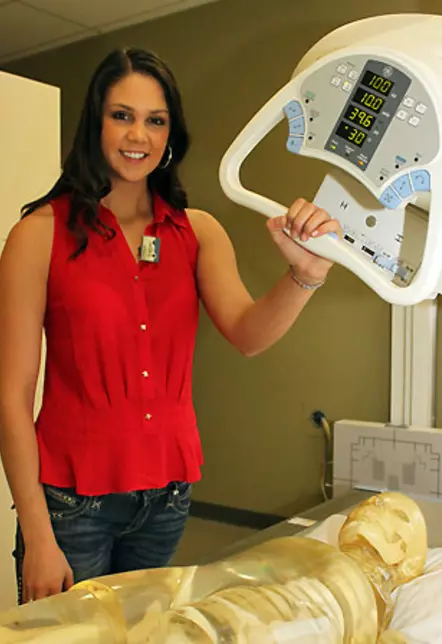 Alumni, Class of 2016
"I enjoy being involved with the on campus Radiologic Science Club..."
Featured Courses
Radiologic Science is a degree within the Medical Imaging Technology (MIT) department. Each degree under MIT requires prerequisite courses before admittance into the degree program. During this time, students are listed as Pre-Medical Imaging Technology (Pre-MIT) students. Admittance to the Oregon Tech Pre-MIT Program does not mean the student has been accepted into a specific MIT program.
Courses include laboratory exercises using energized x-ray machines, use of a variety of test equipment, and rotations through the radiography department at Sky Lakes Medical Center, which is across the street from the campus.
Radiographic Pathology
An overview of common pathological conditions encountered in the clinical setting, for RDSC students.
Radiation Protection
Basic properties, sources, units of measurement, dosimetry and biological effects of radiation.
Magnetic Resonance Imaging
Physics and principles used in the production used in the production of magnetic resonance images and spectroscopy.