Inclement Weather Delays
Please remember to check local weather reports. University personnel will be monitoring the campus, road conditions and weather forecasts during the day and night. Campus closure decisions are made as early as possible with notice provided by 6:00am based on current and forecast conditions on campus and in the surrounding community. Notice will be provided by OT Alert, on the Oregon Tech webpage, and sent to local media. OT Alert is the official means of communication for weather delays.
OT Alert
Please ensure that your phone/text number and email are current in the OT-Alert system, and that you can receive any alerts from your home. Please take the time to check your settings in OT Alert now by following the instructions found at www.oit.edu/ot-alert.
Winter Parking Restrictions
Due to the importance of snow removal and the accessibility of the parking lots for students, faculty, staff, and visitors, Oregon Tech has implemented a winter month parking policy. The main parking lot near the Dow Center, the College Union and Residence Hall is partitioned into two lots, Lot A and Lot B. The upper parking area - Lot A - allows parking 24/7 every day of the week with a current Oregon Tech parking permit. Parking in the lower lot - Lot B - is closed to parking between 2:00 a.m. and 6:00 a.m. in order to effectively and efficiently remove snow. In addition many lots which previously allowed overnight parking will not in the future. Any vehicle found parked in Lot B, D, E, F, H, I, J, K, M, N, O and Q between 2:00 a.m. to 6:00 a.m. during the winter months will be subject to parking citation and towing along with all applicable towing fees.
A parking lot map can be found here https://www.oit.edu/about/campus-map.
Please look for parking signs on Lot B, D, E, F, H, I, J, K, M, N, O and Q indicating winter parking restrictions.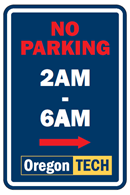 Navigating Campus
On campus, be mindful of icy spots on sidewalks and in parking lots. Ice and frost can stick around late into the day during prolonged periods of cold temperatures, especially on the north side of buildings that don't receive direct sunlight. Our Facilities team will be out early each morning to lay sand and ice-melt, and if there is snow, to plow roads and interior walkways.
When laying down ice-melt and plowing the Facilities team prioritizes main thoroughfares and ADA accessible routes through campus first and then begin work on secondary and tertiary walkways. Please stay on plowed and de-iced walkways when moving about campus. This is both safer for you and helps our teams plow and de-ice.
When walking around campus or to and from your car, take shorter steps, and put your belongings in a backpack so that your hands are free for balance and to use handrails when going up or down stairs, wear appropriate clothing for the weather, including footwear. Watch for slippery floors at building entrances as well, as snow and ice can be tracked inside. Please follow the tips and tricks outlined below and "walk like a penguin" to stay safe on snow and ice.

Traveling
When traveling to and from class or work, please allow extra time to get to your destination, and be mindful of other drivers. Icy roads or poor visibility during a snowstorm require extra vigilance. Winter driving tips can be found online from the Oregon Department of Motor Vehicles at https://www.oregon.gov/odot/pages/winter-driving.aspx.
Oregon can see weather extremes during the winter, so if you are traveling, please visit the Oregon Department of Transportation website at www.tripcheck.com for the latest road conditions and driving restrictions. Keep your phone well charged, your gas tank full, check that your tires are in good condition, and carry a blanket and spare jacket in your car. If you become stuck or break down, you may have to wait for help to arrive.
Slips and Falls - 9 Defenses
Tips For Safe Winter Driving