Geared for and with Boeing employees in mind
Classes delivered live at sites in Everett, Renton, and Frederickson
A flexible transfer policy, minimum residency requirements, and credit for prior learning
Classes meet one day a week — except for Math (two nights a week)
An onsite program office with advising staff available to meet and work with students
Engineering classes taught by working engineers with industrial experience
Tuition assistance available through the Learning Together and Quality Through Training Programs
Occasional weekend lab classes at community colleges with Oregon Tech instructors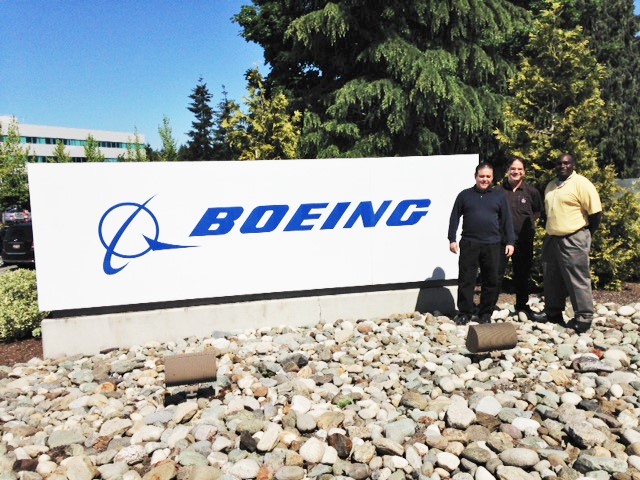 Oregon Tech Seattle History
The Boeing Company's firm belief in continuing education, and a growing need for employees with an ABET-accredited engineering degree led to Boeing's industry collaboration with Oregon Institute of Technology (Oregon Tech) in 1998. The Oregon Tech Seattle Program began offering manufacturing engineering courses on-site at Boeing facilities afternoons and weekends, enabling employees to complete an ABET-accredited Bachelor of Science Degree in Manufacturing Engineering Technology.
Following Boeing's long history of innovation, Oregon Tech met with Boeing's Everett Manufacturing Skills Team in early 2002 to propose a Certificate of Completion in Composite Engineering Technology. With the advent of Boeing's new composite aircraft, the 787, many Boeing employees needed an introduction to the field of composites. The certificate program consists of four classes in composite processes, and earns employees college credits.
In an effort to offer continuing education to employees currently holding undergraduate and graduate degrees in other fields, Oregon Tech now offers classes towards a Master of Science in Manufacturing Engineering Technology (since 2005). This degree offers manufacturing engineering as it "should be taught by doing manufacturing in a systems environment that confronts students with the type of problems they will be faced with as they attempt to compete in today's globally competitive environment" (Troxler and Stanislao).
Today, the Oregon Tech Program continues to meet the needs and challenges of its students and The Boeing Company. Employees may now enroll in an ABET-accredited Bachelor of Science Degree in Mechanical Engineering as well as complete two certificates in composites. A dual degree option is now available for students in either bachelor degree program.
Specialized Accreditation
ABET provides specialized accreditation for all three bachelor's degrees offered by Oregon Tech Seattle: Manufacturing Engineering Technology, Mechanical Engineering, and Mechanical Engineering Technology.
Institutional Accreditation
Oregon Institute of Technology is regionally accredited by Northwest Commission on Colleges and Universities, 8060 165th Ave., Suite 100, Redmond, WA 98052-3981, an institutional accrediting body recognized by the Council for Higher Education Accreditation and/or the Secretary of the U.S. Department of Education.